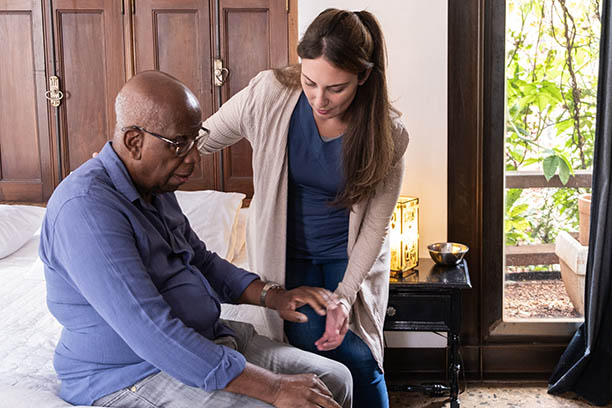 Palliative Care for Seniors in Livermore, CA, and Nearby Areas
Seeing a loved one display symptoms of deteriorating health may be one of the most upsetting experiences someone can have. But life continues on, and acquiring palliative care is the most beneficial thing you can do if you want to provide the best home care services for your loved one.
Certified Palliative Care Provided by Visiting Angels Enhances the Lives of Those We Serve in Livermore, CA, and the Surrounding Communities
When most people hear the words "palliative care," they automatically think of "hospice care." While both hospice and certified palliative care aim to alleviate suffering and provide quality of life, hospice care focuses only on the latter stages of a person's life. Regardless of a patient's outlook, palliative services primarily focus on easing their suffering.
Our Certified Care Program here at Visiting Angels of Livermore caters to aging adults. This program, which is based on conventional senior care concepts, improves life by offering extra help.
Benefits of This Program's Services
Our expert caregivers get training based on the principles of uttermost care, allowing them to deliver care that is not only effective but also comprehensive and reassuring to our clients. Our goal is to provide treatment that stimulates optimism and recovery. What follows is a list of the specific home care services for seniors that are included in this program.
Emotional support: caregivers are trained professionals who know how to help people who are depressed, anxious, lonely, or stressed.
Physical health: Our caregivers are able to offer the proper care to our older customers because they are trained to notice and react to physical symptoms.
Care that addresses the spiritual needs of patients: our caregivers assist patients in regaining optimism and peace so that they can cope with the stresses of daily life.
Social care: Assisting with social requirements by means of fostering interpersonal connections. Our customers are like members of our own family; thus, we always provide them special attention.
Begin Your Visiting Angels Journey
It's simple to start our in-home care for seniors. Contact us at (925) 443-1000 or via our website's intake form as soon as you've made the decision to seek care for a loved one. We may assign a local senior care coordinator to help you through the steps of the program and help you relax once and for all.
Contact Visiting Angels of Livermore today to learn more about how our palliative care services assist!


Serving Livermore, Brentwood, Discovery Bay and the Surrounding Areas
Visiting Angels
LIVERMORE, CA
179 Contractors St.
Livermore, CA 94551
Phone: 925-443-1000