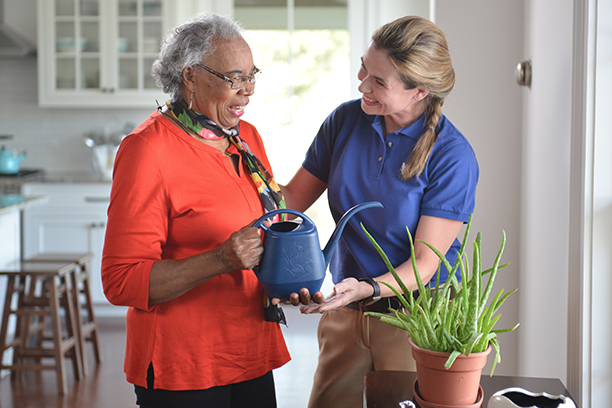 Long-Distance Home Care Solutions in Livermore, CA, and Nearby Areas
It's an easy choice for many elderly people to stay in their own homes as they become older. It may be less complicated for seniors to keep in touch with friends, family, and neighbors if they are able to continue living in their own homes. Keeping tabs on a loved one who lives alone might be more difficult for far-away family members.
You and your family may rest easy knowing that your loved one has access to home care solutions from Visiting Angels of Livermore and that you will get regular updates on their well-being.
Our Home Care Solutions Include Long-Distance Care Services for Aging Adults in Livermore, CA, and the Surrounding Areas
Visiting Angels of Livermore's home care solutions may meet all of your elderly loved one's routine requirements. Your loved one will collaborate with a specialized elder care provider to develop a care strategy that is as unique as they are. That care provider may check in on you often, help with jobs and activities, and ensure your health and safety every day.
Long-distance caregiving is another way to support your loved one. No matter how far apart you are, nothing can replace the love and care you get from your family. Senior care services, such as companionship care, may offer your elderly loved one the kind of warm, individualized attention you wish you could provide yourself.
Plans for Long-Distance Care
We design individualized care plans for the elderly that take into account the preferences of the whole family. This puts you in charge of the care's timetable and cost.
This also implies that we will seek out strategies to include you in providing care, such as:
We will be calling or having a video conference with you during the first consultation with your loved one to get your opinion on the care plan design.
Facilitating a phone interview between you and the suggested caregiver for your loved one.
You will get regular phone calls, emails, and texts updating you on your loved one's care so that you can rest certain that they are in good hands.
Caregiving from afar might be challenging, but with our home care solutions, you'll have a helping hand. We provide emergency care plans and a hotline that is available at all hours. Visiting Angels of Livermore will come to your aid no matter where you are or what time of day it is.
Find Out More About Visiting Angels of Livermore's Senior Care Services
Visiting Angels of Livermore provides home care solutions to alleviate worries about the health and happiness of seniors living alone. For further information, please contact our agency at (925) 443-1000 or submit an online intake form.
Serving Livermore, Brentwood, Discovery Bay and the Surrounding Areas
Visiting Angels
LIVERMORE, CA
179 Contractors St.
Livermore, CA 94551
Phone: 925-443-1000