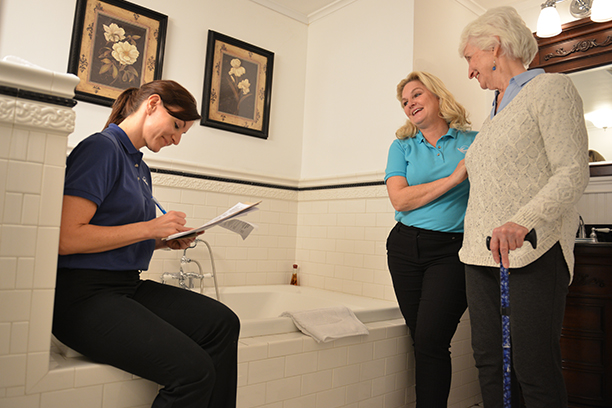 Get Started with At-Home Care in Livermore, CA, and the Nearby Areas
You undoubtedly have a lot of questions when you look into at-home care choices for a loved one. What is the price? What kind of assistance is offered? What should I look for in a caretaker? Do elderly people usually get care at home? It can feel like too much at times. A free preliminary consultation is always available with Visiting Angels Livermore. Professional advice will be provided to aid you in making important choices. In doing so, you begin the process of receiving the kind of support you or your loved one need.
How to Get Started with Visiting Angels' At-Home Care in Livermore, Brentwood, Discovery Bay, CA, and Surrounding Cities
Tell your loved one ahead of time that you are thinking about hiring an at-home care expert so they can prepare for the appointment. Choosing to invest in private, at-home care from a trained expert is not often received without opposition. If a loved one is resistant, it's important to show that you value their input while stressing the importance of their health and well-being.
An in-home consultation with a dedicated senior care provider from Visiting Angels Livermore to discuss our wide range of specialized care and companionship services and address any concerns you may have. You and your loved one will be given individual attention as they get to know you and your requirements. Gather your ideas and thoughts before the meeting so that you can contribute. It's a good idea to do some homework before your session and have some questions prepared.
Some of the questions you should be prepared to answer are:
What are the most challenging activities?
At what time of day does he or she usually need help?
Is there a chronic condition that calls for specialized care?
Is there money set aside for elderly care at home?
About Our Senior Care Services
When it comes to addressing delicate matters related to at-home care, our compassionate care coordinators at Visiting Angels Livermore are experts at putting elders and family caregivers at ease.
We may talk about things like:
Physical requirements include things like bathing, clothing, cooking, and getting around
Companionship and other social interactions may help satisfy emotional needs
Sleep, food, and medication timings
Some examples of housework include food preparation, grocery shopping, and laundry
Scheduling, allowing access, and completing paperwork with Visiting Angels Livermore
Home safety and fall risk evaluations are part of our free in-home consultations. Questions concerning caregiver credentials, safety, monitoring, and emergency protocols may be directed to your Visiting Angels Livermore care coordinator.
Following the Consultation, What Should I Expect?
After your meeting, your senior care coordinator will utilize the information gathered to create an individualized at-home care plan for your loved one. An outline of when and what kind of help is needed will be included in the plan. Your loved one will then be matched with a qualified caregiver by your care coordinator.
How Soon Can We Begin?
If you decide to go forward with our senior care services, we will set up a schedule, complete the care plan, arrange for a team member to come by, and set up a time for you to meet with your caregiver. In most cases, the first appointment with a caregiver may be scheduled within 48 hours.
Choose one of the links below to get more information about the senior care services provided by Visiting Angels Livermore. Our caregivers are ready to assist you and your family!


Serving Livermore, Brentwood, Discovery Bay and the Surrounding Areas
Visiting Angels
LIVERMORE, CA
2600 Kitty Hawk Road #107
Livermore, CA 94551
Phone: 925-443-1000