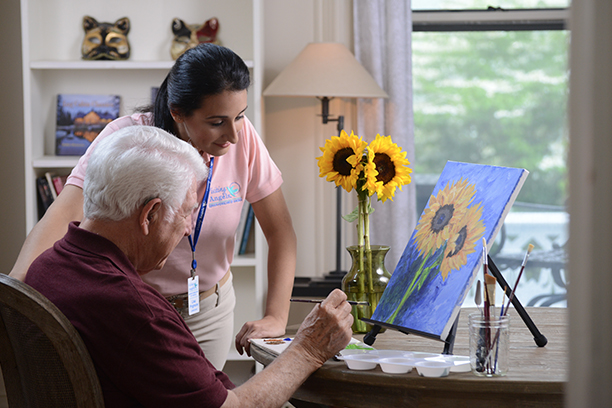 Learn More About Home Care Solutions for Seniors with Alzheimer's in Loveland, CO and Surrounding Areas
Learn more about your options for home care solutions for seniors living with Alzheimer's disease in Loveland, Fort Collins, Greeley, Windsor and surrounding Colorado areas with Visiting Angels
Nowadays, more than 5.1 million people in America suffer from Alzheimer's disease. It is a brain disease that causes a slow decline in memory, language and thinking skills. Being diagnosed with Alzheimer's inevitably changes one's life forever and even though there is no cure for it, there are some treatments and ways a senior can slow the worsening of dementia symptoms.
If you have noticed that your parent has been showing symptoms of this disease, it is important to react quickly and take them to a doctor. In case the diagnosis is made, you should find a qualified Alzheimer's care provider and figure out a care plan as soon as possible.
Common Symptoms of Alzheimer's Disease
Have you noticed that your parent has trouble remembering the names of their friends or family, recent events or how to engage in their favorite activities? If so, you should consider contacting their health providers since this is the most common sign of Alzheimer's. Seniors who suffer from this disease also face challenges in planning or solving problems, cannot complete familiar tasks, are often confused about time and place and have trouble understanding visual images. Also, you should keep an eye for new problems with words in speaking or writing and withdrawal from work or social activities. Older adults with Alzheimer's often show changes in mood or personality, such as mood swings, withdrawal and disinterest in favorite activities.
Keep in mind that this disease is not a normal part of the aging process and with Alzheimer's disease all of these symptoms will gradually increase. Therefore it is crucial to one's health to diagnose the disease on time and make decisions regarding their care.
How to Find Reliable Alzheimer's Care in Loveland and Surrounding Communities
Here are some tips you might find useful if your parent has been diagnosed with Alzheimer's:
Have a conversation with your loved one and see what their wishes are regarding their care and future end-of-life issues.
Engage your loved one in stimulating activities
Activities such as listening to music, playing memory games and solving puzzles can provide cognitive stimulation and improve their brain health.
Arrange Alzheimer's care on a regular or respite basis
Even if you are doing everything in your power to take care of your parent's needs, when the disease progresses it will be difficult to do everything on your own. On the other hand, every family caregiver needs to take a break from time to time in order to recharge batteries and take care of other obligations. Therefore, consider professional Alzheimer's home care solutions on a regular or respite basis.
When looking for a qualified caregiver, find someone who has Dementia Care Professionals of America training. For example, Visiting Angels Loveland is a professional caregiving agency that provides this training to its staff members so we can provide exceptional home care solutions for seniors living with Alzheimer's throughout Colorado's Northern Front Range.
If your loved one has been diagnosed with Alzheimer's, contact our Loveland, CO office at 970-624-0359 and learn more about our Alzheimer's home care solutions.
Serving Windsor, Loveland, Greeley, Fort Collins and the Surrounding Areas
Visiting Angels
LOVELAND, CO
5441 Boeing Dr #200
Loveland, CO 80538
Phone: 970-292-5668