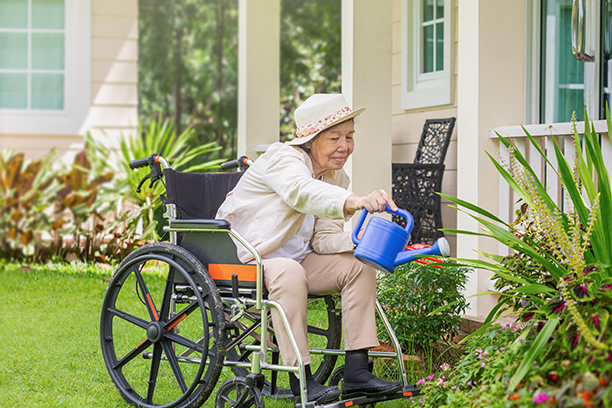 How Does In-Home Senior Care Benefit Older Adults in Loveland, CO and Surrounding Areas?
Senior care services from Visiting Angels can help elderly adults in Loveland, Fort Collins, Greeley, Windsor and surrounding Colorado communities stay safe, healthy and comfortable in their own homes
If you have an older parent or relative, they may have started to need a bit of help around their home. Many age-related issues can make it difficult for seniors to live on their own, which is why families often choose to move senior loved ones into nursing homes or assisted living facilities. However, in-home care has become increasingly popular among seniors. Not only do seniors get the support they need with everyday tasks, but they receive this level of support without having to go through the stress of relocating to unfamiliar surroundings.
At Visiting Angels Loveland, one of our trusted caregivers can help your loved one maintain their independence no matter which challenges they are facing. We've been providing in-home senior care in Loveland, Fort Collins, Greeley, Windsor and the surrounding areas in Colorado's Northern Front Range since 2005 to support safe, independent living at home for aging adults.
The Benefits of Professional Home Care for Seniors in Colorado's Northern Front Range
If you have only recently started pondering the issue of professional in-home elderly care for your loved one, you may be going through a lot of emotions and questions right now. There are many concerns to keep in mind. Many older adults worry about maintaining their privacy while having a professional caregiver around. Others have trouble coming to terms with needing care. Whatever your loved one is going through, Visiting Angels Loveland can help. We have helped thousands of seniors and have worked with older adults from all walks of life.
We understand where you are coming from and what your loved one is going through. Throughout the years, we have helped many seniors live their best lives in spite of any health-related or other challenges they may be facing.
If you are weighing whether to go for professional care or stick with a family caregiver, consider some of the benefits of professional in-home senior care:
As professional caregivers, we can personalize your loved one's care plan and make sure they are getting absolutely everything they need;
We are compassionate and will always prioritize your loved one's dignity;
Our care plans are flexible and will be adjusted in line with your loved one's evolving needs;
We will keep you informed about all aspects of your loved one's care;
Why Choose Visiting Angels Loveland?
Our senior care services are available in any time frame that suits the need of your loved one. We tailor our services to the needs of each older adult that we care for. We understand that quality elder care can only ever happen if you pay attention to the needs of the older adult you are looking after. That is why we prioritize personalized, one-on-one care for seniors.
We will meet with you and your loved one to go over any and all questions you may have. This is an important part of the process and it is also how your loved one will come to trust us and our caregivers.
To learn more about how in-home senior care from Visiting Angels can help your loved one stay independent, please contact our Loveland, CO office today!
Serving Windsor, Loveland, Greeley, Fort Collins and the Surrounding Areas
Visiting Angels
LOVELAND, CO
5441 Boeing Dr #200
Loveland, CO 80538
Phone: 970-292-5668