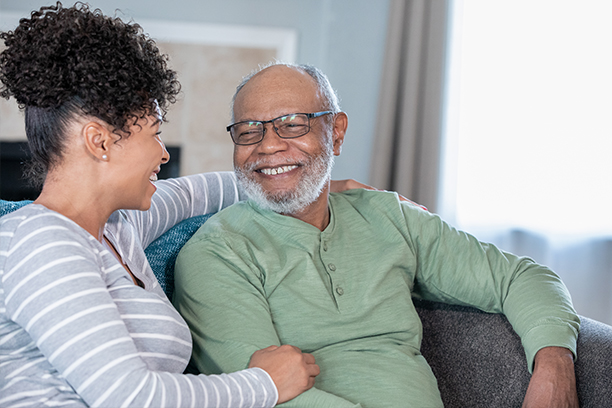 How to Get Started with Home Care Services from Visiting Angels Loveland
When you choose Visiting Angels for in-home care, you'll get comprehensive support from a team of senior care specialists who are committed to helping you find the right solution for your loved one in Loveland, Fort Collins, Greeley and surrounding communities in Colorado
Choosing the right senior care agency for your loved one is tough. Now that you have made your decision, our team at Visiting Angels Loveland is here to relieve that stress for you. We have many years of experience with caring for elderly and disabled adults throughout Colorado's Northern Front Range and are dedicated to helping you find the right care for your loved one. We want to make sure your family's needs are taken care of in a loving, comfortable and efficient way.
Countless families in Loveland, Fort Collins, Greeley and nearby communities choose Visiting Angels Loveland as their partner in senior care and it's because of the quality we continue to provide to each and every client. Our team of qualified caregivers make it possible for your senior loved one to remain in their home where they feel most comfortable and provide regular assistance to best suit their needs.
Getting Started with Visiting Angels Loveland: It All Starts with a Consultation
We get it: coordinating the different aspects of finding senior care can be complex. That's why we have designed a simple process for families to get started with our home care services. All it takes is a simple phone call (or you can fill out our contact form)!
When you call our office, our team will arrange a free in-home consultation with you and your loved one at your convenience. This gives our care coordinators the chance to get to know your loved one, which helps us create a personalized care plan that takes their needs, schedule and other factors into account.
Some topics we often discuss include:
Physical needs: Does your loved one need assistance with bathing and grooming, preparing meals, getting around the house, getting to the toilet, etc.?
Emotional needs: What are your loved one's hobbies? Do they need help with staying in touch with friends and family? Do they need help with getting to and from appointments?
Scheduling: Does your loved one need reminders to take their medicine? When does your loved one go to bed? Could a caregiver help them set up a bedtime routine and make sure they get any assistance they need overnight?
Housekeeping: Does your loved one need help with keeping the house clean and clutter-free? Do they need someone to assist with running errands?
Logistics: How can we access the home? How often does your loved one need in-home care? What's the best way to keep in touch with your loved one's care plan needs to be adjusted?
Furthermore, our coordinators are available to answer any questions you might have about our in-home senior care programs, scheduling, costs and other topics. We want to ensure that you are satisfied with the quality of care we offer.
Once you've decided that Visiting Angels Loveland is the right choice for home care, we will arrange a meeting between our caregivers and your loved one. We want to make sure our caregivers are the right fit for our clients. While we'll pick a few caregivers we feel will be a good fit, your loved one will ultimately make the final decision on the caregiver they want.
Book a Free Consultation Today
To get your senior loved one signed up today with our quality in-home care services, call our Loveland, CO office to schedule your free in-home assessment today!
Serving Windsor, Loveland, Greeley, Fort Collins and the Surrounding Areas
Visiting Angels
LOVELAND, CO
5441 Boeing Dr #200
Loveland, CO 80538
Phone: 970-292-5668