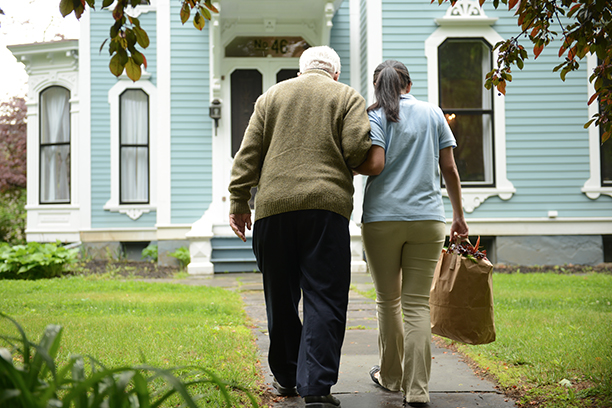 Dignified Personal Care Services for Seniors in Loveland, CO and Surrounding Areas
Here's how our personal care services can help seniors in Loveland, Greeley, Fort Collins and surrounding areas in Colorado take care of their personal hygiene
The ability to age independently at home depends not only on a person's desire or individual circumstances such as overall health, vitality or living conditions, but also on the volume of support one receives from family members or professional caregivers in order to maintain a dignified lifestyle.
Many seniors get by with minimal assistance around the house and occasional visits from a family caregiver. On the other hand, some aging adults are unable to take proper care of themselves due to chronic conditions, disabilities, or physical limitations.
When these age-related difficulties interfere with a person's ability to maintain their basic hygiene, Visiting Angels Loveland can provide personal care services that include customized hygiene, grooming and bathing assistance and allow those placed in our care to remain living independently at home.
How to Tell if Your Loved One Needs Help with Maintaining Their Personal Hygiene
Before you start making any decisions, you want to make certain that professional in-home care is something that your mom or dad really needs.
If you notice the following, chances are your loved one can benefit from personal care services:
Unkempt appearance
Strong odors
Wearing the same clothes for days
How Personal Hygiene Assistance from Visiting Angels Helps Aging Adults in Loveland and Throughout Colorado's Northern Front Range
Maintaining proper hygiene will surely boost your loved one's self-esteem and prevent a number of health issues that can stem from irregular bathing such as foul odors, rashes, sores, skin breakdown and ulcers. At Visiting Angels Loveland, we can make sure Mom or Dad gets the help they need to look and feel their best by providing dignified in-home care.
Our skilled caregivers can provide personal care services and assist your loved one with:
Bathing
Dressing/undressing
Grooming
Applying makeup or shaving
Oral care or denture cleaning
Toileting
And more
While you or other family members may wish to assist Mom or Dad with some hygiene routines, you need to be aware that many of these tasks are best performed by trained professionals, especially when it comes to activities such as bathing, transferring and positioning.
Furthermore, we've been providing in-home senior care since 2005, so we understand the vast majority of care recipients prefer to receive this somewhat intimate type of care from qualified professionals rather than their adult children or family members. With Visiting Angels Loveland, you can have peace of mind knowing your loved one will receive the dignified, one-on-one care they deserve.
Contact our Loveland, CO office today to learn more about our home care services and schedule your free in-home meeting with Visiting Angels. We are here to help!
Serving Windsor, Loveland, Greeley, Fort Collins and the Surrounding Areas
Visiting Angels
LOVELAND, CO
5441 Boeing Dr #200
Loveland, CO 80538
Phone: 970-292-5668