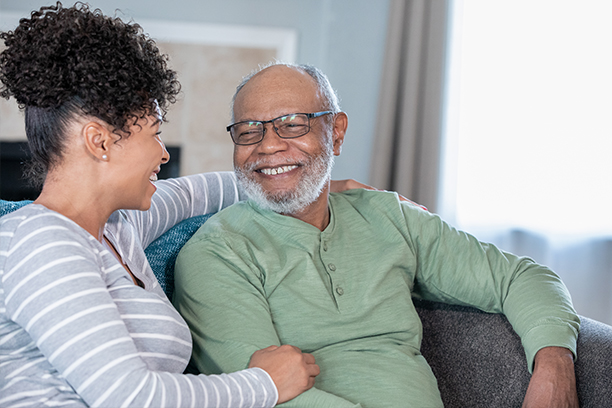 Best Home Care Services for Seniors with Parkinson's in Loveland, CO and Surrounding Areas
Learn why Visiting Angels is one of the best home care providers for seniors living with Parkinson's in Loveland, Fort Collins, Greeley, Windsor and surrounding areas in CO
Most seniors who have been diagnosed with Parkinson's don't manifest any changes in their behavior during the early stages of the disease. However, as the illness progresses, it affects movement and older adults experience difficulties with performing even simple, daily tasks. If your parent has been diagnosed with this disorder, they will need professional assistance to continue living at home. Luckily, Visiting Angels Loveland offers the best home care services for seniors who are living with Parkinson's.
With our help, your parent will be able to lead a happy, healthy and active life, despite their medical condition. To ensure your loved one's every need is met; we will create a personalized care plan based on their needs.
What Are Common Symptoms of Parkinson's?
Although symptoms are very subtle in the beginning, as the condition progresses your loved one's mobility will be affected.
Some of the most common symptoms Parkinson's patients experience are:
Frequent, recurring tremors
Decline in mobility
Balance issues
Depression
Sleeping disorders
Delusions
How Parkinson's Disease Care from Visiting Angels Loveland Can Help Seniors
Parkinson's affects mobility and balance, so your loved one will be at high risk of injuring themselves. In addition, the illness will make routine daily tasks difficult which is why your loved one will need additional assistance to remain safe.
Through our Parkinson's disease care, we will ensure that your loved one continues living safely and independently at home thanks to our personalized, one-on-one approach to care for seniors. Since our care professionals are trained to tend after seniors with Parkinson's, Alzheimer's and other forms of memory and cognitive-related illnesses, you can be at ease knowing that your loved one is in capable hands.
Some of the ways our caregivers can help your loved one include:
We understand that seniors with Parkinson's have evolving care needs, which is why our care plans are not set in stone and can be altered at any time.
Contact Visiting Angels Loveland to Learn More
If you're looking for the best home care services for your senior loved one to help them manage Parkinson's, don't hesitate to contact our Loveland, CO office today and let us know how we can be of service.
Serving Windsor, Loveland, Greeley, Fort Collins and the Surrounding Areas
Visiting Angels
LOVELAND, CO
5441 Boeing Dr #200
Loveland, CO 80538
Phone: 970-292-5668