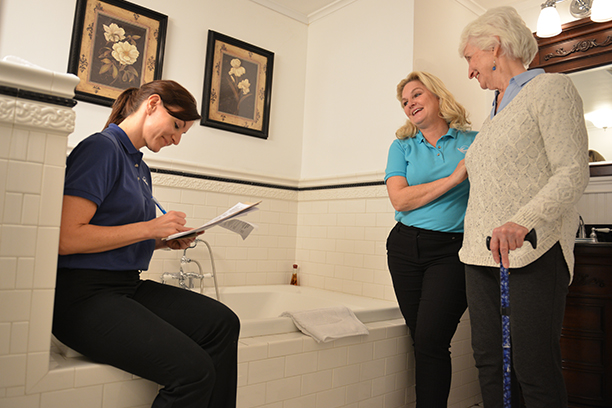 Managing Chronic Illnesses at Home with Living Assistance Services from Visiting Angels Loveland
When serving as a family caregiver, it can get quite difficult to provide adequate care for a senior loved one who has developed an age-related chronic condition. At Visiting Angels Loveland, our home care services are geared toward enabling older adults to get the support and attention they need to continue living in their preferred routine at home, no matter the diagnosis.
Our expert caregivers provide outstanding living assistance services in Loveland, Fort Collins, Greeley, Windsor and throughout Colorado's Northern Front Range, helping clients and families to combat the symptoms of chronic illnesses and make everyday life a little bit easier.
What Are Chronic Illnesses?
A chronic illness could be described as any persistent medical problem that lasts more than one year, is difficult to treat, and has a long-lasting impact on a person's quality of life. The most common examples of chronic illnesses, especially in seniors, include arthritis, osteoporosis, type 2 diabetes, asthma, heart disease, as well as various types of cancer. Unfortunately, when a senior loved one is diagnosed with a chronic disease, standard in-home care may not be sufficient to help them maintain independence at home.
If you're taking care of a family member who has multiple chronic illnesses, it's no easy task to manage their symptoms while keeping yourself healthy as well. There are many symptoms that can arise for someone with multiple chronic illnesses, and it can be difficult to keep track of them all. Luckily, many of these symptoms are the same for many conditions, so you're likely familiar with several of them already. At Visiting Angels Loveland, our living assistance services can help your loved one manage these symptoms and help with daily tasks that may be difficult due to their symptoms.
How Can Caregivers from Visiting Angels Loveland Help My Mom or Dad?
As Visiting Angels Loveland provides care plans uniquely tailored to meet the specific needs of each client, those with chronic illnesses can expect to receive adequate assistance carefully combined with specific services required to manage their condition. Although we solely provide essential personal home care for seniors, the loving support of our trained caregivers can be crucial when it comes to improving Mom or Dad's quality of life at home.
Some of our living assistance services include:
Our dedicated caregivers will make every effort to minimize discomfort and increase the number of "good days" your parent has, reducing the likelihood of medical complications. Whether your parent needs help with daily activities or is recovering from a recent illness, we have the right care plan for them.
With living assistance services from Visiting Angels Loveland, you can have peace of mind knowing that your parent is getting the best care possible at home.
Get in touch with our Loveland, CO office today and learn more about how seniors afflicted with chronic illnesses can benefit from our living assistance services. We are here to answer all your questions and schedule a free in-home meeting with you and your parent to determine how we can help.
Serving Windsor, Loveland, Greeley, Fort Collins and the Surrounding Areas
Visiting Angels
LOVELAND, CO
5441 Boeing Dr #200
Loveland, CO 80538
Phone: 970-292-5668