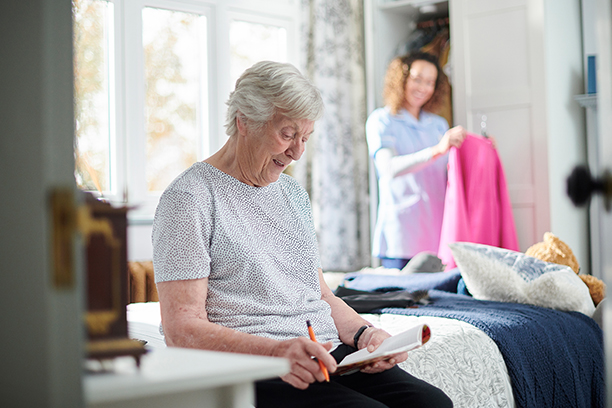 In-Home Palliative Care Services for Seniors in Loveland, CO and Surrounding Areas
As a part of our home care services, we focus not only on physical needs of our clients, but also on their emotional, social and spiritual needs. We provide quality and supportive care to our clients in Loveland, Fort Collins, Windsor and Greeley, CO regardless of their life expectancy.
What is interesting about palliative care is that many people confuse it with hospice care. Although these two types of services have many similarities, they are not the same. While hospice care is designed for seniors who are nearing the end of their life, palliative care is designed for anyone who needs additional assistance, regardless of their life expectancy. At Visiting Angels Loveland, we aim to enrich quality of life for all clients by providing specialized, essential senior care.
How Palliative Care Can Help Your Loved One
Our palliative care services are included in our Senior Life Care Navigation collection of home care services. This collection also includes end of life care which is designed to provide comfort, support and assistance during the end of life process.
At Visiting Angels Loveland, we strive to provide supportive, soothing and comforting care, which is why we focus not only on physical, but on wider range of our clients' needs including emotional, social, and spiritual ones.
We recognize and respond to signs of discomfort common among seniors. By providing essential in-home care and support, we tend to physical needs of our clients and allow them to live as independently as possible.
Thanks to our compassionate approach, we are able to address the emotional needs of our senior clients. We offer support to clients who suffer from depression, loneliness and anxiety.
We understand that isolation and loneliness can have a negative impact on one's quality of life, which is why we strive to build relationships with our clients and provide them with companionship. As a part of our program, we address the social needs of elderly adults thus ensuring they lead a happy and active life.
We address the spiritual needs of our clients by providing relief from age-related difficulties and treating each senior with dignity and respect.
Getting Started with Visiting Angels Loveland
If you believe that your parent might benefit from out palliative care services, don't hesitate to contact our office in Loveland, CO. We will gladly answer all of your questions or arrange a meeting with one of our care directors in the comfort of your senior's home. Visiting Angels offers personalized care plans, the opportunity to Select Your Caregiver and a compassionate approach to senior care at home.
Serving Windsor, Loveland, Greeley, Fort Collins and the Surrounding Areas
Visiting Angels
LOVELAND, CO
5441 Boeing Dr #200
Loveland, CO 80538
Phone: 970-292-5668