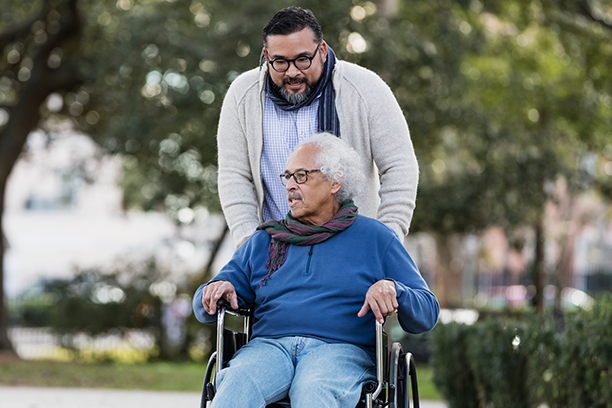 Home Care Solutions for Elderly Stroke Survivors in Loveland, CO and Surrounding Areas
Visiting Angels provides personalized home care solutions to help seniors in Loveland, Fort Collins, Greeley and Windsor, CO recover from a stroke in their own home
After surviving a stroke, seniors in Colorado's Northern Front Range face many physical and mental challenges. The consequences of a stroke usually include memory loss, partial paralysis to one side of the body or one side of the face as well as speech impairment. During this period, promoting recovery in any way possible is essential as 2/3s of all stroke survivors end up with some type of disability.
While you may have been able to provide care for your loved one before their stroke, the situation has now changed. You may not be fully equipped to help your loved one recover at home, whether it's because this is your first time taking care of someone who's had a stroke or you have your own family or career that you also need to focus on. If your mom or dad recently suffered a stroke, they will need professional care at home to increase the likelihood of a successful recovery, as well as give you a chance to recharge.
Visiting Angels Loveland can help. Our caregivers can provide personalized, one-on-one home care solutions that can help your loved one safely recover at home and give you peace of mind.
How Stroke Recovery Care at Home from Visiting Angels Loveland Benefits Seniors
As a professional caregiving agency, Visiting Angels Loveland has the skills, resources and experience to provide in-home recovery care for elderly stroke survivors. Our dedicated caregivers will make every effort to boost your loved one's well-being and prevent another stroke from occurring with our home care solutions.
A highly trained professional from Visiting Angels Loveland can help your loved one with:
Personal hygiene including bathing, grooming and dressing
Mobility assistance
Transferring and positioning
Additionally, a professional care provider will keep in touch with your loved one's medical team and act in accordance with their recommendations.
Our caregivers help with more than just physical tasks. We can also provide meaningful companionship and take the time to talk with your loved one so that they can gradually restore their speech if it has been impacted after suffering a stroke or find other ways to promote recovery. With Visiting Angels Loveland as your partner in senior care, your loved one can recuperate in their home as safely and as comfortably as possible with our home care solutions.
Contact Visiting Angels Loveland to Get Started
Visiting Angels Loveland is only one call away to begin discussing a care plan for your loved one. Let us know how we can help so be sure to contact us and start seeing how our at-home senior care services can make a difference.
Call our Loveland, CO office at 970-624-0359 to schedule a free in-home consultation.
Serving Windsor, Loveland, Greeley, Fort Collins and the Surrounding Areas
Visiting Angels
LOVELAND, CO
5441 Boeing Dr #200
Loveland, CO 80538
Phone: 970-292-5668