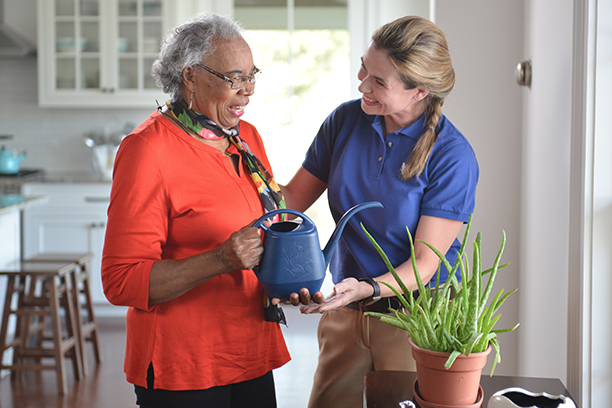 Meal Planning and Preparation from Trusted Companion Home Care Providers in Loveland, CO and Surrounding Areas
Meal planning and preparation is one of our companion home care services we offer in Loveland, Fort Collins, Greeley, Windsor and surrounding areas in Colorado
To stay healthy, strong and vital, seniors need to maintain a well-balanced diet. However, due to various factors a lot of older adults are malnourished. While some of them do not eat well, others eat only the wrong types of food. Unfortunately, undernourishment can lead to various health problems and worsen already existing chronic conditions. At Visiting Angels Loveland, we have recognized this issue and that is why we offer meal planning and preparations as one of our companion home care services.
At Visiting Angels Loveland, we offer personalized, one-on-one care to seniors living in Loveland, CO, and surrounding areas throughout Colorado's Northern Front Range. Our senior care services are designed to increase the quality of life of our clients and help them live active, happy and fulfilled lives in the comfort of their home. By helping seniors plan and prepare meals, we help seniors get the nutrients they need to keep up their health and energy so they can continue to live out their golden years at home safely and comfortably.
Why Healthy Eating Can Be Challenging for Seniors
Loss of mobility or strength
As they get older, a lot of seniors deal with loss of mobility and strength. Therefore, standing in the kitchen for a long time while cooking, carrying heavy pots and pans or even going grocery shopping can easily become a problem for your aging loved one.
The "convenience" of frozen meals and fast food
Seniors who find grocery shopping too difficult can easily turn to frozen meals, processed foods, and take-outs. Unfortunately, these meals often contain unnatural preservatives and too much salt that can negatively affect one's health.
Lack of appetite due to medication or depression
Some medications as well as mental health concerns can cause a lack of appetite. Seniors who do not feel hungry or find cooking for one person pointless often decide to skip important meals.
Luckily, Visiting Angels Loveland can help. Our companion home care providers can prepare nutritious meals for your loved made from only quality ingredients.
What's Included in Meal Planning and Preparation from Visiting Angels Loveland
Whether your loved one is prone to skipping meals or you are worried that they are opting for unhealthy foods, please contact Visiting Angels Loveland today. With our meal planning and preparation services, we will ensure that your parent eats nutritious meals.
Our caregivers can help your loved one with:
Grocery shopping
Picking up online grocery orders
Creating meal plans
Preparing important meals as well as snacks
Organizing your parent's kitchen
Cleaning up after a meal
Taking out the trash when needed
Feeding assistance
If you want to learn more about our companion home care services and ways we can help your parent, please contact our office in Loveland, CO today to speak to our friendly staff members.
Serving Windsor, Loveland, Greeley, Fort Collins and the Surrounding Areas
Visiting Angels
LOVELAND, CO
5441 Boeing Dr #200
Loveland, CO 80538
Phone: 970-292-5668