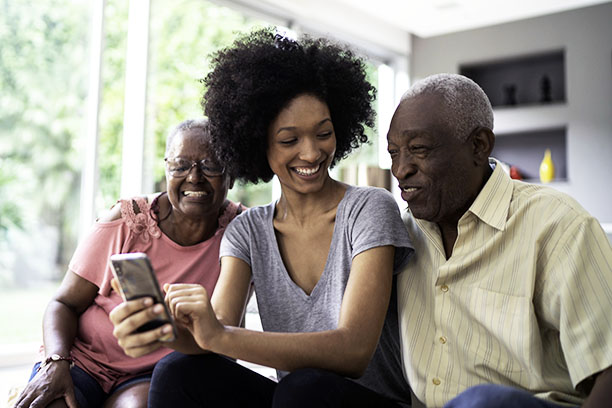 Social and Companion Home Care in Lynchburg, VA, and Nearby Areas
At Visiting Angels of Lynchburg, we understand the importance of well-rounded senior care services for your loved one. That is why we offer a wide variety of services to help your loved one stay independent at home. To help seniors stay connected to family and friends, we offer a comprehensive social care program that integrates technology into the care we provide.
How Companion Home Care from Visiting Angels of Lynchburg, VA, and Surrounding Areas Can Help Seniors Use Technology
Utilizing modern technology to help seniors stay connected with their families is part of Visiting Angels' holistic approach to bettering your loved one's health. Using platforms such as FaceTime or Skype can be part of a seniors' companion home care and can help them continue to be active and engage in the lives of their family members even if they're not together in person. Visiting Angels of Lynchburg understands that caring for a loved one necessitates a comprehensive approach. Individual senior care is provided both inside and outside the house in this comprehensive approach. Our social care program helps families stay connected and engaged by employing modern technology.
How Seniors Benefit
The Phoenix Center in Washington, D.C., reports that depression can be reduced if seniors can use the internet, while a University of Arizona study found working memory of seniors can improve if they use Facebook. Visiting Angels understands that caring for a loved one necessitates a holistic approach. This holistic approach includes both within and outside-the-home care for the client.
Our social care program helps families stay connected by employing current technologies such as:
Facebook
Instagram
Zoom
FaceTime
Plus, other platforms to keep them active and engaged
Learn More About Visiting Angels' Senior Care Services
Learning to use a cell phone or learning to text or use programs such as Skype or FaceTime are just a few of the things seniors can learn via the Visiting Angels' Social Care Program. As part of companion home care, they can also learn how to create a page on Facebook and use it to interact with others. Other skills they can learn include how to shop online or use a search engine to research online. Contact one of our personal care assistants by clicking one of the buttons below or call 434-337-3836 to learn more about how our Social Care Program can benefit your loved ones and how technology can improve their lives.
Call Visiting Angels of Lynchburg today if your loved one could benefit from our companion home care services!


Serving Lynchburg, Forest, Amherst, Campbell County, VA, and the Surrounding Area
Visiting Angels
LYNCHBURG, VA
2900 Old Forest Rd Suite B
Lynchburg, VA 24501
Phone: 434-439-4698
Fax: 434-439-4733