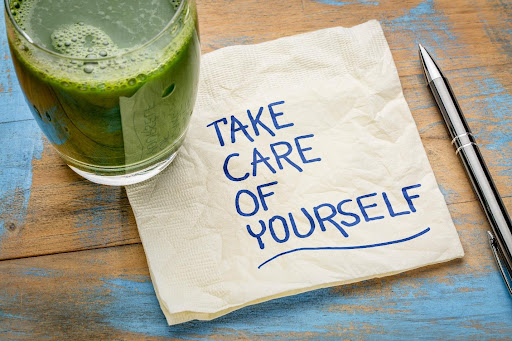 Self-Care for Seniors
The term "self-care" has turned into quite a buzzword in the last few years. While it can sometimes be overused and simplified, the idea of self-care at its core is about taking care of yourself in a way that feels most authentic to you.
What is Self-Care?
Self-care is intentional behavior to improve someone's physical, emotional, spiritual, and mental well-being. You might see self-care as spa days and bubble baths in mainstream media. While those activities are great for promoting relaxation, self-care is much more than that. It's the practice of putting yourself first and ensuring you do what you need to live your highest quality of life.
Self-Care Ideas for Seniors
Self-care looks different for everyone, so it's essential to find self-care activities that make you feel your best. If you're new to the idea of self-care, consider incorporating a few of the following into your daily or weekly routine.
Connect with Others
According to the Centers for Disease Control and Prevention, social isolation and loneliness are considered public health risks for older adults. A lack of social connection increases seniors' risk for medical conditions, including dementia.
Keep your social circle strong by finding ways to connect with friends and family. You can schedule weekly lunches, have phone dates, or set up a time to connect using a video calling tool. If you don't have friends or family in the area, consider joining a community group through a local church or hobbyist club.
Declutter Your Home
If you feel anxious or overwhelmed most days, your home may be a trigger for those emotions. Take a few days to clean out each room in your house and get rid of anything you no longer need or use. Once you've rid your home of clutter, organize your space to make it feel less busy. After your big purge, try to keep your home feeling calm by cleaning up messes as you make them and dedicating one day a week to deep cleaning your most-used rooms.
Prioritize Your Health
Self-care is about putting yourself first and prioritizing your physical and mental health. Start by scheduling an appointment with your general practitioner for a physical. Make sure to be open and honest with your doctor about medical history, including any recent injuries, discomfort, anxiety, or depression. This information will help your doctor assess your risk for various health conditions and guide you on staying healthy.
Also, try to incorporate movement into each day. Moving your body is a great way to keep your body healthy. You don't have to do vigorous exercise every day, but try spending at least 30 minutes a day walking, stretching, swimming, or hiking. Plus, working out is great for your mental well-being and can reduce symptoms associated with stress, anxiety, and depression.
Volunteer
You've probably heard that doing something nice for others can reflect how you feel about yourself, and it's true. Giving back to your community can improve your happiness, health, and overall sense of well-being. Look for opportunities in your community to give back, such as donating to a local shelter, helping serve food at a pantry, or organizing a clothing drive for a school or church. You can also volunteer your skills to local nonprofits. If you have past work experience collecting information or marketing an event, contact a nonprofit with a mission you admire and ask if there is any admin work that you can help complete.
Enjoy a Quality Night of Sleep
Sleep is one of the most important things you can do for your body. Sleep is your body's time to reset, relax, and recharge, so you have the physical and mental endurance to get through each day. Aim to get a quality night of uninterrupted sleep by sticking to a regular bedtime and wake-up time, eliminating caffeine and alcohol before bed, and reducing screen time before your sleep. If you struggle with a sleep disorder, talk to your doctor about treatments for a well-rested night.
Working with Visiting Angels
A key component of self-care is ensuring you feel safe and comfortable in your home. If you or an aging loved one is having trouble caring for themselves, the team at Visiting Angels can help. We have a dedicated team of professional caregivers who can assist with various nonmedical tasks such as cooking, light housekeeping, medication reminders, transportation, personal grooming, and more. Our Mobile office serves the greater Mobile and surrounding areas. If you'd like to learn more about our services, you can complete this online form or call us at 251.345.4100.