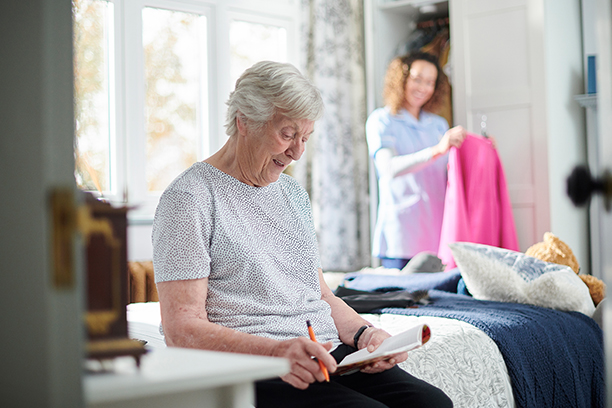 Home Health Care Services Available for Seniors in Mobile, AL
Many seniors throughout the Mobile, AL area have benefited from our wide selection of customizable and affordable home health care solutions offered through our Senior Life Care Navigation
At Visiting Angels in Mobile, AL, we understand that each and every elderly adult has their own unique needs. That's why we specialize in providing customized home care services for every client. Whether your loved one needs companionship or access to social media in order to combat feelings of isolation, wandering prevention and close monitoring after receiving a dementia or Alzheimer's diagnosis or comfort care as they approach the end of their life, our senior care options give your loved one the support and assistance they need to safely and comfortably age in place.
Thanks to our collection of customized home health care programs called Senior Life Care Navigation, we are able to focus on the specific needs of our clients. Our goal is to restore hope by caring not only for the physical needs of a senior but for their emotional and spiritual ones as well. We are able to accomplish this through effective communication with our clients, their families and health care providers. With in-home care services from Visiting Angels Mobile, you can rest assured that your parent will receive dignified and compassionate care.
At Visiting Angels we offer several types of home care services for seniors in Mobile, AL.
ALZHEIMER'S CARE
If your parent suffers from Alzheimer's they will be able to maintain their independence and continue living at home for as long as possible.
COMPANION CARE
Our caregivers will assist your loved one with everyday tasks such as meal preparation, running errands, light housekeeping, and other activities and motivate them to engage in their favorite activities
DEMENTIA CARE
Our home health care services are designed to improve the quality of life for seniors living with dementia.
END OF LIFE CARE
We will provide support and compassionate care to our clients and their families during the end of life process.
PALLIATIVE CARE
Our trained and certified caregivers attend to physical, emotional, social, and spiritual needs of our clients.
PERSONAL CARE
We'll match your parent with a care provider who has skills and experience to provide the living assistance services in your loved one's home.
READY-SET-GO HOME
Our caregivers help seniors avoid hospital re-admission and stay at home.
SAFE & STEADY FALL PREVENTION PROGRAM
Falls are the leading cause of injuries that lead to loss of independence.
SOCIAL CARE PROGRAM
We help seniors use technology and social media in order to stay active and engaged.
Visiting Angels is dedicated to providing best home health care services to seniors living in Mobile. That is why we provide our caregivers with the ongoing education and focus on every aspect of our clients' needs.
If you believe that your parent could benefit from our home care services, don't hesitate to call us. Contact our Mobile, AL office and learn more about Senior Life Care Navigation.
Serving Mobile and the Surrounding Area
Visiting Angels
MOBILE, AL
5901 Airport Blvd #204
Mobile, AL 36608
Phone: 251-345-4100
Fax: 251-345-4766