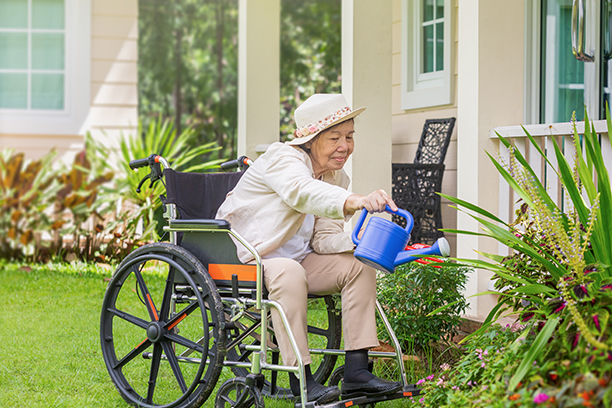 Comforting Palliative Care for Seniors in Mobile, AL
At Visiting Angels, our Certified Palliative Care Program provides comprehensive and compassionate support for seniors in Mobile, AL
We aim to increase the quality of life for seniors through providing the right physical, emotional and spiritual care to tend to their specific needs. This program goes further than what most expect when they hear about palliative services in that it is provided for as long as it is needed, regardless of life expectancy.
While it is common to use the terms palliative and hospice care interchangeably, they are inherently different types of care. Palliative care has many similarities to the latter, but the biggest difference is the duration of said service. While hospice care is offered to those seniors nearing the end of life transition, palliative services don't have a time restriction based on life expectancy, allowing caregivers to alleviate discomfort and improve the overall quality of life for a senior person regardless of their current stage in life.
At Visiting Angels in Mobile, AL, our program takes on this approach and provides the best possible care though personalized non-medical care to make the quality of life for your senior loved one as high as it could be.
Learn More About the Certified Palliative Care Program
Our program teaches our loving caregivers the importance of providing supportive, comforting and soothing care through a more holistic approach.
We aim to restore hope and provide loving care to our senior clients. Our caregivers focus on a wider array of needs most seniors are in desperate need of and, in doing so, ensure they are getting the most holistic care. We tend to their physical, emotional, social and spiritual needs by:
We look after the physical care of our senior clients by tending to the common non-medical needs elderly people are in need of.
We tend to the emotional needs of our clients by providing compassionate care to those seniors that may be experiencing loneliness, stress, or anxiety.
We tend to the social needs of our senior clients by building lasting relationships with them and their family, as well as providing compassion and conversation.
We look into the spiritual needs of our seniors by reestablishing hope and helping them achieve comfort, all the while treating them with dignity and care.
How to Get Started with Visiting Angels Mobile
If your senior loved in is in need of palliative care services, you will find that at Visiting Angels in Mobile, we are more than happy to answer any questions you may have in setting up your loved one with the right provider. Schedule a free in-home assessment today by visiting our Mobile, AL office or by going online today.
Serving Mobile and the Surrounding Area
Visiting Angels
MOBILE, AL
5901 Airport Blvd #204
Mobile, AL 36608
Phone: 251-345-4100
Fax: 251-345-4766