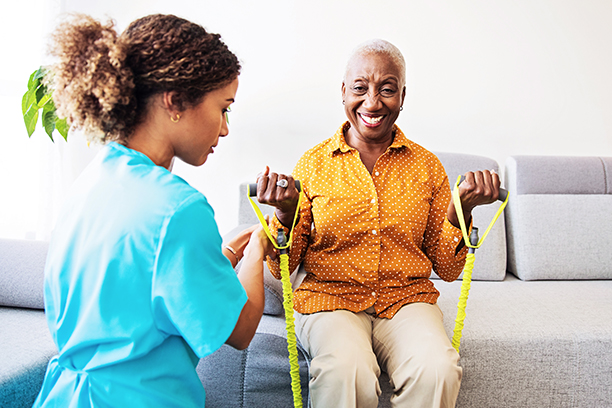 Frequently Asked Questions About Senior Care at Home in Mobile, AL
Finding answers about options for senior care at home isn't always easy, so Visiting Angels in Mobile, AL can answer some common questions families have about in-home living assistance for older adults
When researching professional care options for your older relative in Mobile, AL, information isn't always readily available. Chances are, someone in your situation has had the exact same questions. Here at Visiting Angels, we get a lot of questions from individuals interested in our senior care services. That is why we decided to put together a short list of the most frequently asked questions for your convenience.
Q. What services does Visiting Angels offer in Mobile, AL?
A: Like in all other locations across the country, Visiting Angels Mobile provides both companion care and personal care services as part of our in-home care program. All of the services we provide focus on maintaining the independence of seniors that we care for in a compassionate, dignified and safe environment. Examples of the services we provide are fall prevention, medication reminders, light housekeeping, grooming, bathing assistance and errand running.
Q: What is "aging in place"?
A: When we refer to "aging in place," we are talking about enabling older adults to remain in the comfort of their own home as they get older without compromising neither their independence nor safety. We help seniors accomplish this by providing personalized senior care at home. Aging in place is often described as the opposite of moving to a retirement home or assisted living facility, which would be an older adult's alternative to in-home care.
Q: My loved one lives in an assisted living facility. Can they still receive your senior care services?
A: Of course they can. Often, older adults find they need a bit more help than they already receive in their assisted living facility to maintain their independence. We can help. Visiting Angels Mobile can assign a caregiver to your loved one and they can help them live on their own terms and achieve anything they would like in their golden years.
Q: How soon after initiating contact can my parent receive care at home from Visiting Angels?
A: In some cases, we can dispatch a caregiver the same day. Most of the time, however, a caregiver will be ready to work with your loved one within 48 hours.
Q: Can in-home care schedules be changed or adjusted?
A: Absolutely. One of the keys to quality caregiving is flexibility. We can make any adjustments you wish with a week's notice.
Q: How do I get started with care at home from Visiting Angels?
A: Getting senior care services for yourself or your loved one is as easy as making a phone call. Pick up the phone and call our Mobile, AL office and our friendly caregivers will start assisting you with the next steps.
Serving Mobile and the Surrounding Area
Visiting Angels
MOBILE, AL
5901 Airport Blvd #204
Mobile, AL 36608
Phone: 251-345-4100
Fax: 251-345-4766