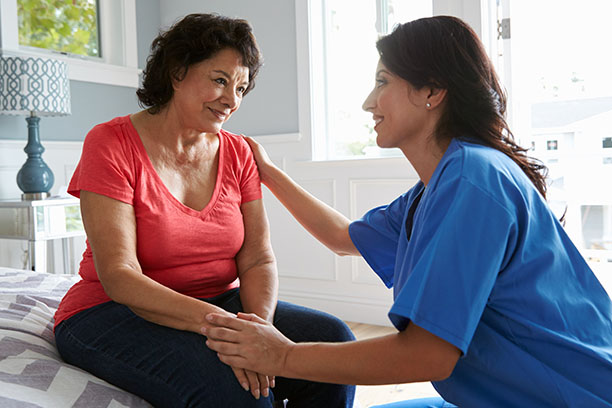 In-Home Dementia Care for Seniors in Mobile, AL
Help your senior loved one in Mobile, AL manage their dementia symptoms and live safely at home with quality dementia care from Visiting Angels
Believe it or not, individuals that have been diagnosed with early-stage, mid-stage, or late-stage dementia can all remain in the comfort of their own home as they age. In other words, they can age in place, in a home that has brought them so much comfort throughout the years. There is no reason why it should not continue to do so. In Mobile, AL, Visiting Angels provides the highest quality professional in-home care for seniors with dementia. Not only can we help your loved one maintain a high quality of life, but we can also provide you with much-needed respite if you are their primary caregiver.
The Importance of In-Home Dementia Care
Many noble individuals decide to look after their loved ones on their own following a dementia diagnosis. Although nothing is as rewarding as looking after our elderly, it can become a bit too much, particularly if your loved one has a very demanding illness like dementia. Many primary caregivers become burned out very quickly. Some even become bitter and angry with their loved one and end up having very strained relationships.
Thankfully, all of this can be avoided successfully with professional in-home care for seniors with dementia. At Visiting Angels Mobile, we provide specialized non-medical dementia care that has multiple benefits. Not only will we provide your loved one with a supportive environment designed to maximize their quality of life, we will also give you peace of mind. Believe it or not, this will give you and your loved one the opportunity to become much closer with the weight of responsibility lifted. You will also know that your loved one is receiving a high level of care that you may not have been able to provide them with on your own.
As part of our home care services for seniors with dementia, we provide older adults with prevention from wandering, assistance with walking, transferring, bathing grooming and dressing, meal preparation, medication reminders, light housekeeping, incidental transportation and so much more.
We understand how challenging it may be getting for you to care for your loved one with dementia. This is the case because our home care services for seniors with dementia are very different from other types of senior care. Looking after a senior with dementia must include care tailored to specific symptoms, risks, and challenges they deal with on a regular basis.
We are partnering with the best dementia care specialists and have developed a series of certification programs to ensure our caregivers are fully qualified to care for seniors with dementia. All Visiting Angels caregivers can take part in these trainings. To find out more, please call our Mobile. AL office today.
Serving Mobile and the Surrounding Area
Visiting Angels
MOBILE, AL
5901 Airport Blvd #204
Mobile, AL 36608
Phone: 251-345-4100
Fax: 251-345-4766