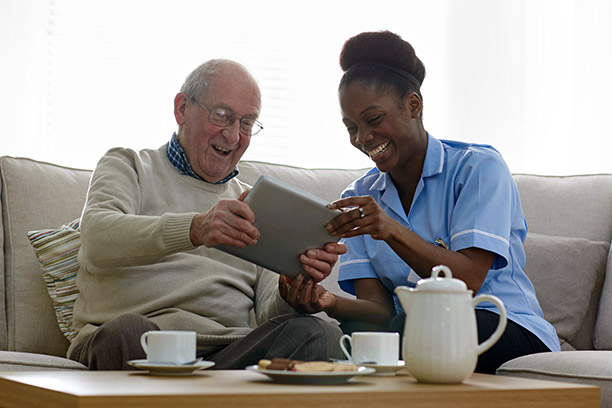 In-Home Alzheimer's Care for Seniors in Mobile, AL
With Alzheimer's care from Visiting Angels, your loved one in Mobile, AL will have the care and support they need to stay safe and comfortable in their own home while managing Alzheimer's symptoms
Getting the proper care for your senior loved one after they've been diagnosed with Alzheimer's can make the world of difference when that care can be provided in the comfort of their own home. At Visiting Angels in Mobile, AL, we make it our goal to provide unparalleled care to your senior loved one through our team of dedicated and knowledgeable caregivers. We can alleviate the stress that comes with relocating to a nursing or wellness home by giving that same level of care in your loved one's cherished home.
Our in-home care services for seniors with Alzheimer's are part of a larger program called Life Care Navigation, which includes holistic care to seniors in all stages of the care cycle. Additionally, we provide the same level of care to seniors suffering from varying stages of memory loss conditions.
What Does Alzheimer's Care from Visiting Angels Include?
Hearing that initial diagnosis of Alzheimer's of your senior loved one can be very daunting news as the family is most often the one to bear the cost of the care your loved one will need. Working families often gain additional stress to their lives in trying to find the right in-home care provider, especially if there is a great distance involved between family. Sometimes nursing homes seem like the only viable option. Fortunately, Visiting Angels is here to let you know that there is a better option available.
What we offer at Visiting Angels Mobile is the ability for your senior loved one to age where they feel most comfortable – at home in their own familiar surroundings. Many studies have shown that familiar surroundings play an immense role in those individuals dealing with Alzheimer's. Moving your senior to a nursing home or wellness center can bring about unnecessary stress and anxiety and our Alzheimer's care services ensure that that doesn't need to be the case. We let our senior clients stay where they are happiest as this allows our care to be the most effective.
Our services also allow for the family to be alleviated of the additional stress that comes with the additional tasks needed to provide the best care to seniors suffering from the condition. At Visiting Angels, we offer routine check-ups, monitoring and after-hours support lines that allow families to have peace of mind.
Getting Started with Memory Care from Visiting Angels Mobile
To get your senior loved one enrolled in our services, we offer free in-home consultations to assess the care needed on a personal basis. Feel free to come to our Mobile, AL office or visit us online to learn more about our Alzheimer's care and other in-home care services.
Serving Mobile and the Surrounding Area
Visiting Angels
MOBILE, AL
5901 Airport Blvd #204
Mobile, AL 36608
Phone: 251-345-4100
Fax: 251-345-4766