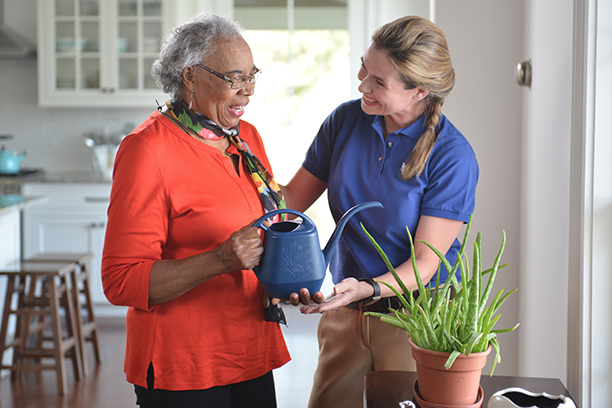 Alzheimer's Care Services
Our Alzheimer's Care Services
Finding out your loved one is suffering from Alzheimer's or dementia can be hard to manage, but it doesn't have to be. At Visiting Angels Virginia Beach, we provide specialized Alzheimer's care services to ease the difficult daily burdens of you and your loved ones. Our team of empathetic and supportive caregivers are experienced in Alzheimer's care. We understand how important it is for your loved one to maintain their daily rituals and sense of independence. We also know they may need more assistance on some days than on others. It's why we offer part-time, full-time, and 24-hour support. Whatever you need, we're here to help.
Custom Dementia and Alzheimers Care Service Plans in Virginia Beach
Let Visiting Angels Virginia Beach assist you with our dementia and Alzheimer's care. We strive to bring daily ease and comfort to you and your loved one. Before we begin, we'll sit down with you and your family to get a better sense of your loved one's particular care needs. Then, we'll design a detailed care plan that allows your family member to get the support they require. If they need extra help on evenings, weekends, or holidays, we'll be glad to incorporate that into their plan. Best of all, our care plans are easy to update as needed, ensuring your loved one is always well looked after.
Types of Alzheimer's Care Services with Visiting Angels Virginia Beach
When your family member is suffering from Alzheimer's or dementia, it's important that they have a caregiver who can attend to their specific needs. At Visiting Angels Virginia Beach, our dementia and Alzheimer's care services can help with the anxiety and confusion that your loved one may deal with. Our Alzheimer's caregivers can help your family member keep track of the medication they take, the meals they eat, and any doctors' appointments they might have. They can assist with bathing, grooming, and other daily activities. They can even help with light housekeeping, grocery shopping, and other small errands. Best of all, they can provide your loved one with regular, friendly companionship. It's these small touches that make Visiting Angels Virginia Beach one of the premier Alzheimer's care service providers in the region.
We understand what you're going through – and we can help. Call Visiting Angels Virginia Beach today to learn about our dementia and Alzheimer's care services in Virginia Beach and the South Side.
Serving Virginia Beach and the South Side
Visiting Angels VIRGINIA BEACH
1642 Pleasure House Rd #104
Virginia Beach, VA 23455
Phone: 757-530-5961