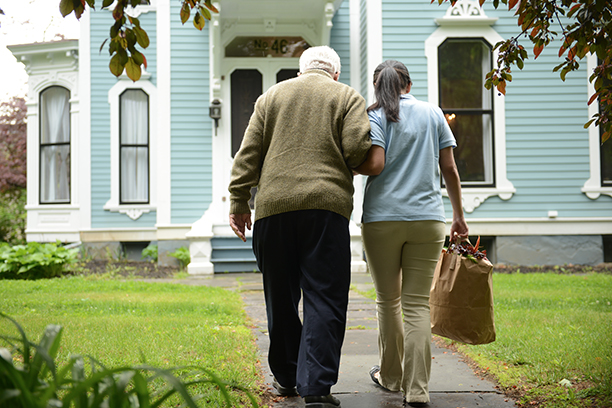 Alzheimer's Care Services for Seniors in Virginia Beach, VA
When you find out that a loved one is living with Alzheimer's or dementia, it is customary to begin to worry about managing it. Visiting Angels of Virginia Beach provides specialized Alzheimer's care services to assist with the day-to-day burdens that you and your loved one may be dealing with daily. We have a team of empathetic and supportive care providers that have ample experience with Alzheimer's.
We recognize how important it is for your loved ones to continue participating in their day-to-day rituals and routines-- whatever helps them maintain a sense of independence. Our agency also knows that your loved one may need more assistance some days than on others. These needs are why we began offering part-time, full-time, and 24-hour support for our clients. Whatever is required, we are ready to help.
What Alzheimer's Care Services Does Visiting Angels of Virginia Beach Offer?
If you have a loved one living with Alzheimer's or dementia, it is crucial to find a caregiver who can attend to their client's specific needs. Visiting Angels of Virginia Beach offers Alzheimer's care services that are made to help with the anxiety and confusion that seniors may be feeling. Our caregivers can assist clients in keeping track of any medication that may need to be taken, as well as their meals each day and any upcoming doctor's appointments. Assistance with bathing, grooming, and other daily activities is also available. Our team of caregivers also assists with housekeeping, grocery shopping, and other small errands; to us, the best part of our services is that it provides clients with regular, friendly companionship. The small things make our home care services one of the best in the region.
Our home care agency is here to help seniors safely and comfortably age in place. Our team works diligently daily to ease and comfort our clients and their families. Before we provide in-home care, we have our potential client and their family members participate in an in-home consultation. This meeting will allow us to gain a better sense of your loved one's specific needs. Next, we create a detailed care plan that Our caregivers will personalize to their particular needs. If needed, we can provide extra care on evenings, weekends, or holidays-- we can happily add this to their plan. Our care plans are easy to update as needed, ensuring your loved one is always well looked after.

We understand that Alzheimer's and dementia are severe conditions that are a lot to handle and go through-- which is why we want to help.
Contact Visiting Angels of Virginia Beach to learn about our Alzheimer's care services today.


Serving Virginia Beach and the South Side
Visiting Angels
VIRGINIA BEACH
1642 Pleasure House Rd #104
Virginia Beach, VA 23455
Phone: 757-530-5961
Fax: 844-795-8881