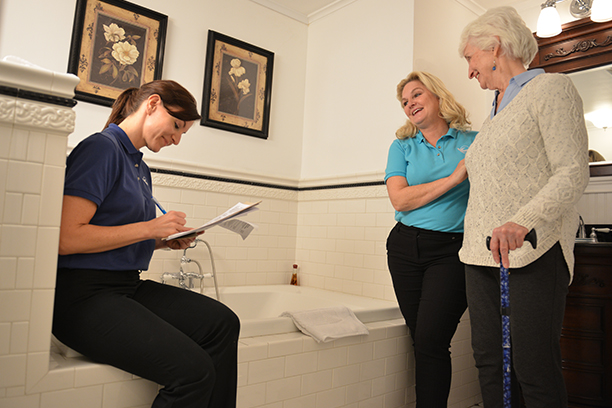 How Transitional Care in Virginia Beach Reduces Hospital Readmissions
Ready-Set-Go Home with Transitional Care in Virginia Beach
When a senior undergoes surgery or other in-hospital procedure, most families are most concerned with the outcome of the procedure itself. However, the reality is that the time after an operation is one of the most critical, with nearly 20% of discharged patients winding up back in the hospital within 30 days of their release. So how can you help prevent your loved one from becoming a part of that unfortunate statistic? Transitional care may be the answer. That why Visiting Angels® Virginia Beach offers our 3-pronged Ready-Set-Go Home care program which helps seniors stay on track to recovery by providing them with the support they need, both in the hospital and at home.
How Transitional Care in Virginia Beach Stops Seniors Struggle With Post-Hospitalization
In order to ensure that seniors undergoing an operation have everything they need from start-to-finish, our caregivers at Visiting Angels Virginia Beach provide several options for transitional care that combine to provide truly comprehensive support.
We address a senior's needs on three levels, including:
At the Hospital -
Seniors often need support even before they come home. A companion caregiver can act as their advocate while they're in the hospital and help ensure they understand the information and instructions they're given.
At Home -
Back at home, many seniors will need help with aspects of their daily routine, particularly if they are confined to their bed or a chair. The help of a transitional care provider from Visiting Angels Virginia Beach can help prevent them from overexerting themselves and ensure that they're following hospital discharge instructions.
At the Office -
Our team at Visiting Angels Virginia Beach can provide additional support for your loved one by making sure the things they need for their recovery including medical equipment and other supplies are always there when they need them.
If your loved one in Virginia Beach is due to undergo an in-hospital procedure, transitional care could be just the thing they need to make a speedy recovery. Put your whole family's mind at ease by ensuring they have the support they need to make a safe and smooth transition from hospital to home with the help of Visiting Angels Virginia Beach.
Call Visiting Angels Virginia Beach today to find out more about our transitional care through a free, in-home consultation.
Serving Virginia Beach and the South Side
Visiting Angels
VIRGINIA BEACH
1642 Pleasure House Rd #104
Virginia Beach, VA 23455
Phone: 757-530-5961
Fax: 844-795-8881