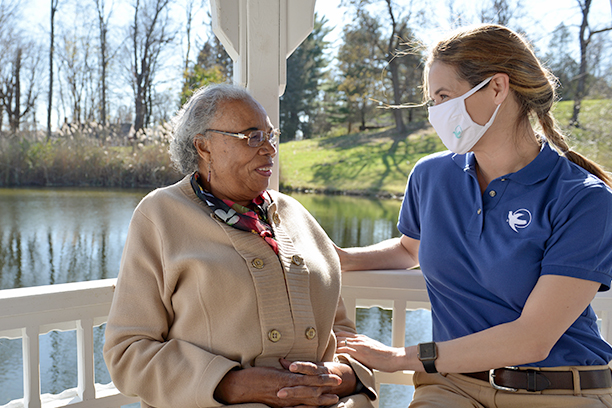 Elderly Companion Care in Virginia Beach
Visiting Angels provides essential one-on-one companion care services in Virginia Beach, VA, and the surrounding areas.
Virginia Beach-based Visiting Angels provide companion care for those unable to perform everyday tasks or who are lonely. We help with a wide range of household chores so that older people aging in place don't have to do them alone and provide companionship and conversation. Our caregivers also help ease feelings of isolation and loneliness. Seniors in Virginia Beach, Chesapeake, Norfolk, and the surrounding areas can get companion care services from Visiting Angels Virginia Beach.
Virginia Beach area companion care services
Many seniors feel isolated due to the loss of family or friends regarding the physical and intellectual changes that come with aging. Others stop doing things they used to enjoy because of differences in their abilities, like not seeing well enough to drive.
Support for elders with physical, mental, and emotional issues can be provided by Visiting Angels Virginia Beach's companion care program:
Help with grocery shopping and errands
Vacuuming, laundry, and organization are examples of light housework.
Organizing and cooking healthy meals
Providing aid and company
Getting to appointments and participating in preferred activities
Reminders to take medications, drink plenty of water, and eat regularly
Companionship and an ear to listen
If your loved one is lonely, has an injury or condition, or is exhausted, companion care services from Visiting Angels Virginia Beach can provide the assistance and companionship they require. Our services also give family members peace of mind about the happiness and well-being of their loved ones.
Here are some frequent warning indicators to keep an eye out for:
Taking drugs incorrectly or forgetting to take them
Separating themselves from friends and family.
They are losing interest in activities that they used to like.
Exhaustion from home duties daily
Depression or loneliness
Appointments or therapies that are missed
Cooking or meal preparation challenges
Take the next step with Visiting Angels companion care services
Call Visiting Angels Virginia Beach if you observe any of these symptoms. We tailor our services to each client's specific requirements, and our strategies are easily adaptable as circumstances change. Our caregivers are empathetic, loyal, and available 24 hours a day, 365 days a year on a full-time, part-time, or intermittent basis to guarantee your loved one has access to care on their terms.
Contact Visiting Angels Virginia Beach today to organize a free in-home consultation to learn more about our companion care services in Virginia Beach and the surrounding areas.
Serving Virginia Beach and the South Side
Visiting Angels
VIRGINIA BEACH
1642 Pleasure House Rd #104
Virginia Beach, VA 23455
Phone: 757-530-5961
Fax: 844-795-8881