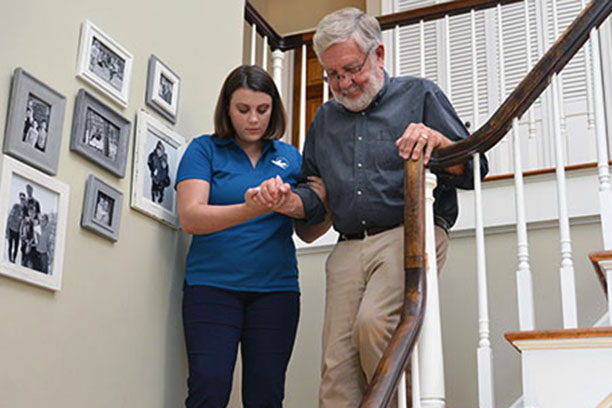 Our Personal Care Assistant and Fall Prevention Program Helps Seniors in Virginia Beach, VA and Nearby Areas
Our Safe and Steady Fall Prevention Program and personal care assistants help seniors stay safe at home by preventing them from slipping, tripping, and falling. We can lessen the danger of elders injuring themselves by avoiding falls. Fall prevention is essential to aging in place because these injuries cause senior independence loss.
Visiting Angels' Personal Care Assistants Help with Slips and Falls in Virginia Beach, VA, and the Surrounding Areas.
Visiting Angels is dedicated to assisting seniors in remaining at home as they age, allowing them to stay in the place where they feel safest, happiest, and most at ease. As a result, fall prevention is ingrained in our DNA.
Seniors are more likely than younger persons to fall, with one in three seniors suffering a severe fall each year.
This statistic is attributable to many risk factors that are more prevalent in older adults, such as:
Reduced strength
Coordination issues
Mobility is restricted.
Reduced vision
Hearing loss is a common problem.
Joints that are stiff or uncomfortable
Complications with your health

When seniors fall, they are more likely to get a significant injury. These injuries can have life-altering or life-threatening consequences in many circumstances.
Hip fractures are especially dangerous. A hip fracture can take up to 12 months to heal, necessitating transitional care and posing a considerable risk of life-threatening complications. Most seniors never fully recover from a hip fracture, and as a result, many older people lose their independence.
The good news is that you can prevent the great majority of falls. Our personal care assistants can assist your loved ones in lowering their risk of falling at home, which is the most prevalent place for slips, trips, and falls.
How to Prevent Seniors from Falling at Home
More than 75% of dangerous falls happen in or around the house. As a result, most falls can be avoided by taking precautions at home.
Our Safe and Steady Fall Prevention Resource Guide and personal care assistants can assist you in identifying risk factors in your loved one's home and take steps to lessen the likelihood of a fall.
The following are some of the essential topics covered in this guide:
Falls by the elderly have physical, social, and emotional consequences.
Factors in the environment that enhance the danger of falling at home
Precautions you can take to reduce the danger of falling in your home.
Changes in design that can lessen the danger of a senior falling at home
Seniors' fall risks might be reduced further by making lifestyle adjustments.
The Safe and Steady guide contains a list of simple house changes that might help your loved one avoid falling at home. A 59-point home safety checklist is also included.
Begin by Contacting Visiting Angels of Virginia Beach
Our dedication to preventing falls extends to our home care services. Depending on the sort of home care we provide, our caregivers can lower your loved one's risk of falling in various ways.
With companion care, our personal care assistants can assist your loved ones in keeping their homes secure and tidy, as well as help them with daily duties that may put them in danger of falling. Our care services can assist with activities such as dressing, bathing, and movement if your loved one's physical health puts them at risk of losing.
Fall prevention is also significant in many other Visiting Angels programs, such as Alzheimer's care, dementia care, and our Ready-Set-Go Home transitional care.
Find a Visiting Angels home care agency near you today, or contact us for more information about our senior care services and how our personal care assistants can help your loved one!


Download our free "Safe & Steady Fall Prevention Resource Guide" today.
Serving Virginia Beach and the South Side
Visiting Angels
VIRGINIA BEACH, VA
1642 Pleasure House Rd #104
Virginia Beach, VA 23455
Phone: 757- 216-1934
Fax: 844-795-8881