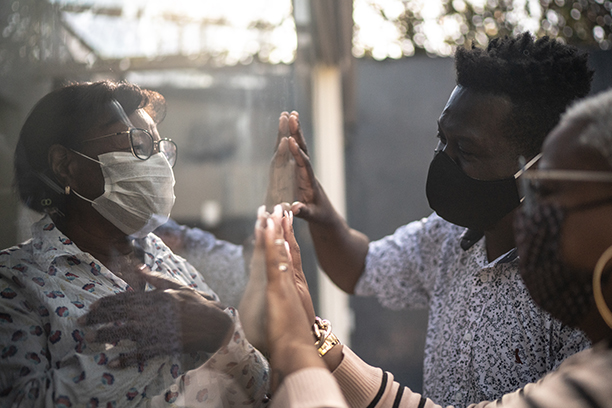 Alzheimer's Home Care Services for Seniors in Washington, DC
At Visiting Angels, we focus on providing Alzheimer's home care services that help seniors in Washington, DC remain independent and continue living at home
There is nothing that threatens an older adult's independence more than the onset of Alzheimer's. No matter how much family and friends rally around them to provide support, it is rarely enough to keep seniors with chronic memory loss living in their homes. If you are a family caregiver for a loved one who is living with Alzheimer's disease, it may be time to consider professional Alzheimer's care so you don't burn out and your loved one can continue receiving the support they need.
That's why families across our community turn to the trusted Alzheimer's home care experts at Visiting Angels® Washington DC. Our caregivers provide skilled memory care services and assistance with Activities of Daily Living (ADLs) that makes it possible for seniors with Alzheimer's to continue living our their golden years in the comfort, safety and familiarity of their own home.
Why Choose Alzheimer's Care from Visiting Angels?
Alzheimer's disease isn't an ordinary part of aging, so most seniors require more comprehensive, hands-on support in order to remain at home. Our care providers at Visiting Angels Washington DC have all been carefully selected and received specialized training in order to help seniors with chronic memory loss overcome the unique difficulties they face at home and improve their quality of life. No matter the level of care your loved one needs, you can rest assured they're in capable and caring hands when you choose Visiting Angels Washington DC.
Our approach to Alzheimer's home care focuses on what a senior can do, not what they can't. By emphasizing their capabilities, we help seniors maintain a sense of independence and agency. At the same time, we're careful to bridge the gaps between their abilities and their needs by providing a range of senior care services tailored to meet their unique requirements.
Some of the services our caregivers provide for seniors living with Alzheimer's include:
Medication Reminders
Meal Preparation
Mobility Assistance
Transportation Support
Light Housekeeping
Personal Care Services such as Bathing & Grooming Assistance
Food Freshness Checks
Accident and Wandering Prevention
In addition to all the many practical Alzheimer's home care services our caregivers can provide, they also offer another invaluable service: companionship. Seniors living with Alzheimer's may have trouble interacting and spending time with friends and family on a regular basis, so our caregivers fulfill the care recipient's need for social interaction. Our seniors really look forward to visits from their caregivers that lift their spirits and keep them feeling motivated.
How Seniors with Alzheimer's Benefit from Care at Home
Having a senior loved one who needs professional support to continue living with Alzheimer's can be challenging. Many family caregivers who are no longer capable of providing the care needed to keep a loved one safe and comfortable may look toward nursing homes or an assisted living facility as viable care options. However, the process of relocating to new and unfamiliar surroundings can be highly upsetting for older adults with memory-related conditions like Alzheimer's. In many cases, staying at home is usually the preferred option. However, finding an agency that can provide dependable Alzheimer's home care services isn't always easy.
At Visiting Angels Washington DC, we believe every senior deserves to age in the comfort and dignity of their own treasured homes, especially those living with Alzheimer's disease. It's our mission to help seniors remain independent and remain at home by providing them with the support they need to live in a comfortable and safe environment.
We carefully choose caregivers who can provide daily assistance to seniors with Alzheimer's and are committed to making a difference in the lives of seniors living in Washington DC. In their hands, seniors across Northwest DC, Northeast DC and Southwest DC can continue to age comfortably in place.
Call Visiting Angels Washington DC at 202-701-1437 to learn how our Alzheimer's home care services can help your loved one.
Serving Washington, DC Metro Area
Visiting Angels WASHINGTON DC
7826 Eastern Ave NW #409
Washington, DC 20012
Phone: 202-701-1437