A Trusted Home Care Agency in Washington, DC
Visiting Angels is one of the leading home care providers for seniors in Washington, DC
Welcome to Visiting Angels® Washington DC! For years, we have been trusted by local families to provide compassionate, non-medical, home health care services in Washington, DC and the surrounding areas. With the right physical, cognitive and social support from our dedicated caregivers, your loved one can continue to enjoy the comfort and stability of home safely and contentedly.
Why Choose Visiting Angels Washington DC?
If your senior loved one is having trouble completing everyday tasks, has started to withdraw from social interaction, is wearing the same clothes every day or is starting to show memory problems, it may be time to consider professional senior care. There are many options for professional support for seniors in Washington DC. Nursing homes and assisted living facilities are often popular options for families because they give seniors a stable living environment with around-the-clock support. However, many seniors are now preferring in-home care because it provides the support they need while allowing them to continue living in their own home and following their own routine. But finding the right agency can be difficult, especially if this is your first time seeking care for a loved one.
At Visiting Angels Washington DC, we understand just what a confusing and emotionally challenging time this can be for a family, and we'll do everything we can to help put you at ease as we navigate the care process together. First and foremost, we're here to listen and learn about your loved one, including the challenges they face at home and how you've already stepped in to support them. From there, our compassionate home care professionals can create a flexible care plan that fits your loved one's needs and schedule. 
At Visiting Angels Washington DC, we offer a range of in-home senior care services from tidying up and preparing meals to helping our clients move more easily around their home. Through our personalized home care services, our caregivers can provide the support your relative needs to thrive within the home and community that mean so much to them — while supporting devoted family members like you.
Our tailored care plans typically include:
Bathing, grooming, and dressing aid
Conversation and companionship
Planning and cooking balanced meals
Performing light housekeeping duties
Medication reminders and administration
Running errands and providing transport
Personalized one-on-one support at any time
If your loved one's needs change, let us know. Our care plans are both personalized and flexible, so we can make any changes needed, including adding or removing services, scheduling more or fewer hours, assigning a new caregiver and more.
Proudly Serving Local Seniors
Visiting Angels Washington DC has close ties to the local community because this is our home too. Our team is made up of dedicated in-home care professionals from the Washington DC area, and we view our clients as the heart and soul of this community. We also know them as our neighbors, friends and family. That's why we take pride in providing exceptional in-home senior care for our clients.
Call Today for a Free Consultation
It all starts with a phone call. Tell us about your loved one, about your family and about whatever struggles you face.
We're here to listen, and can schedule a free consultation at your relative's home. Then, together, we can develop a unique and adjustable plan that fully supports your loved one and provides whatever relief you need.
Visiting Angels Washington DC is here for you. Contact us today to book a no-cost consultation.

Our Visiting Angels Locations
Visiting Angels - Gaithersburg, MD
Visiting Angels - Edgewater, MD
Visiting Angels - Silver Spring, MD
Visiting Angels - Washington DC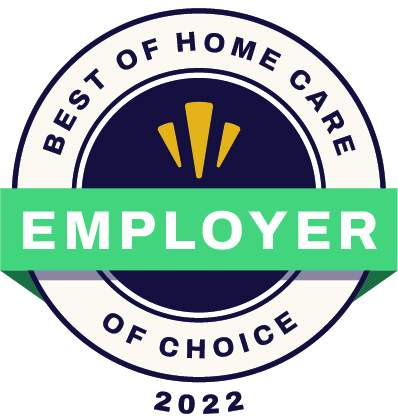 Visiting Angels Washington DC recently received the Best of Home Care – Employer of Choice award from Home Care Pulse! This award is given to agencies who have the highest caregiver satisfaction ratings. We always aim to make our Angels feel appreciated for the work they do each and every day. After all, we couldn't provide the top-quality home care services our clients deserve without their expertise and dedication! We are honored to receive this award and will continue to work toward supporting our caregivers any way we can.