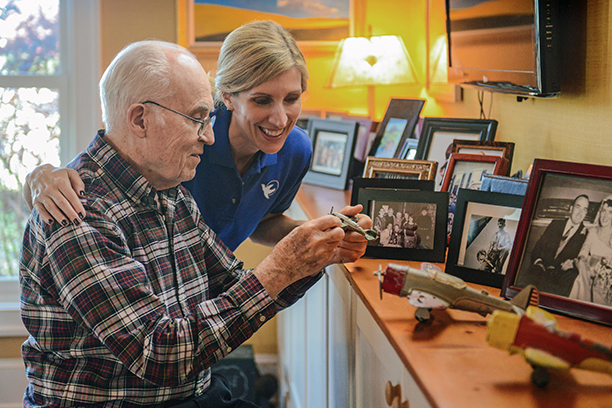 Long-Distance Home Care Solutions from Visiting Angels Washington DC
Do you live outside of Washington, DC? Learn how Visiting Angels can help you arrange home care solutions for your senior loved one.
It's natural for adult children to live far away from their parents, whether you've moved for a job opportunity or for your own family. One of the greatest challenges of living in a different area than where your loved one is in staying in touch and making sure they're doing OK. While many families stay in touch through phone calls or texting, if your loved one is starting to struggle with simple everyday tasks, this may not be enough. It might be time for professional in-home senior care.
Visiting Angels Washington DC is here to help. We understand the struggles of arranging care for a loved one when you're not physically present. That's why we offer options for long-distance care consultations. We handle the process of arranging home care solutions for families of loved ones living in Washington, DC, from the initial consultation to regular check-ins once we've begun providing care.
How Visiting Angels Washington DC Can Help You and Your Loved One
At Visiting Angels Washington DC, we understand that a key aspect to long-distance care is communication. Our caregivers and office staff regularly stay in contact with the families we work with. We are also always making sure that our Angels are providing the personalized, one-on-one care your loved one deserves.
If you live outside of Washington, DC, here's how we can help you arrange care for your loved one:
The initial consultation – We offer free in-home consultations for every family. Getting started is really simple; simply call our office or fill out our contact form. If you don't live in the DC area, our care coordinators can make sure you stay involved via email, phone or video chat.
Planning and scheduling care – Our care coordinators will take the time to learn about what your loved one needs, what's involved in their everyday routine and what they're looking for in a caregiver. Based on what we learn, we will design a care plan that includes the home care solutions your loved one needs while working with their schedule. We will also encourage your loved one to select the caregiver they wish to work with. With personalized senior care options, your loved one will get the support they truly need in order to continue living at home.
Monitoring and check-ins – Our involvement continues even once we begin providing care. Our team regularly monitors our caregivers and clients through drop-in visits and check-in phone calls. We want to make sure your loved one is doing well at all times.
Ongoing communication – Our team will regularly stay in touch with you and your family and provide updates on your loved one's physical, emotional and cognitive well-being. If we notice any changes or causes for concern, we will let you know. Our care plans are flexible, so if you think it would be best to adjust the plan, we will work with you.
Arranging multi-location care – Does your loved one spend a lot of time in another city or make long-distance visits to family members? No problem! We can coordinate with other Visiting Angels offices so your loved one can continue receiving home care solutions wherever they are.
If you'd like to learn more about how we can help you find the home care solutions your loved one needs, call Visiting Angels Washington DC at 202-701-1437 today!
Serving Washington, DC Metro Area
Visiting Angels
WASHINGTON DC
7826 Eastern Ave NW #409
Washington, DC 20012
Phone: 202-701-1437