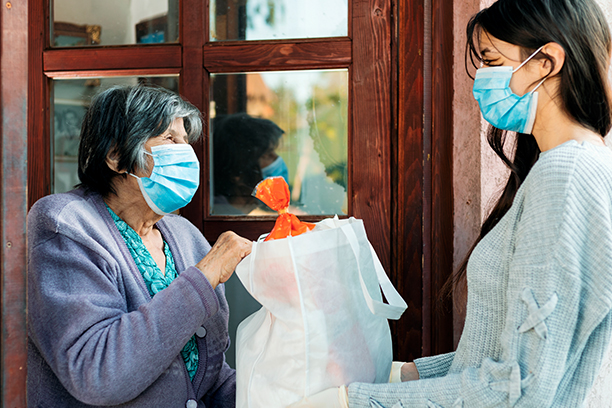 How Our Professional Home Care Services Help Seniors in Washington, DC
Learn how our professional home care options assist seniors in Washington, DC with aging in place
Many seniors in Washington, DC want to stay in their homes. At Visiting Angels, we understand why—it's the place they've spent many years, have many memories in, and love. Our professional home care services are here to help assist seniors live out their golden years at home while staying safe, comfortable and content.
Living at home as seniors age in place can become challenging as the years go by. That second floor bedroom isn't possible to reach anymore, or taking care of the home has become difficult. As we age, strength, coordination and mobility is something that deteriorates over time. These changes can make even the simplest day-to-day tasks impossible.
At Visiting Angels Washington DC, our caregivers are here to bridge that gap. Our caregivers will help your senior loved one with a variety of tasks all while providing engaging conversation and a caring presence in the home.
How We Can Help Your Loved One
Our professional home care services offer several specialized solutions to fit your loved one's needs, including:
Additionally, our caregivers can assist your loved one with everyday tasks such as light housekeeping, grocery shopping, provide transportation to appointments or events, dressing, bathing, grooming, mobility assistance, toileting and incontinence care and so much more.
Benefits of In-Home Senior Care
Older adults who have trouble with living independent can choose to either receive professional in-home senior care or relocate to an assisted living facility. Assisted living facilities dictate your loved one's schedule, meals, routines and more. This can be stressful or not what your senior wants, and this is where Visiting Angels Washington DC truly shines with our completely customizable routines and services.
Independent living for seniors has never seemed more possible with the help of professional home care options from Visiting Angels Washington DC. Meet with our team to start creating a care plan and see how we can make a difference in your loved one's life. Get started today and see the results of quality in-home senior care.
Contact Visiting Angels Washington DC
Contact our Washington, DC office at 202-701-1437 for your senior care needs. Give us a call if you have any questions or if you would like to schedule an in-home consultation today.
Serving Washington, DC Metro Area
Visiting Angels WASHINGTON DC
7826 Eastern Ave NW #409
Washington, DC 20012
Phone: 202-701-1437