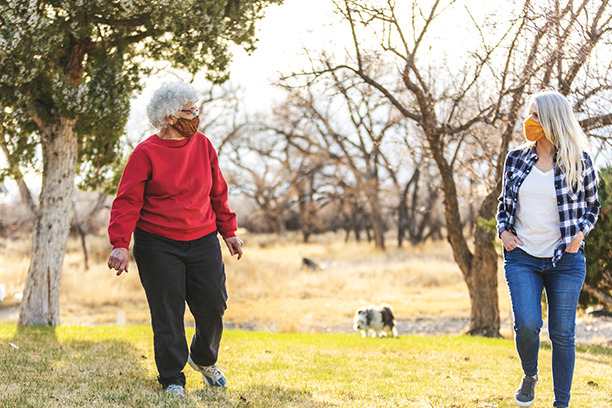 Fall Prevention Solutions from Home Care Professionals in Washington, DC
Our home care professionals help seniors in Washington, DC stay safe by reducing the chances of slipping and falling at home
At Visiting Angels Washington DC, we're committed to helping elderly and disabled adults in the DC area remain safe and comfortable as they live out their golden years at home. One important component of our goal is fall prevention.
Our fall prevention program helps seniors prevent slips, trips and falls at home thanks to the assistance and support of our home care professionals. By preventing falls, we can reduce your loved one's chances of injuring themselves, which is a common way that seniors lose their independence and their ability to age in place.
Why is Fall Prevention Important for Seniors?
Did you know that 1 in 3 seniors experience a serious fall every year? And that around 75 percent of falls occur in and around the home? You may assume that home is the safest place to be, but your loved one's home may contain environmental hazards like cluttered stairs and walkways, bathtubs and showers with no grab bars or other assistive devices or rugs with no anti-slip pads. These hazards may be easy for the average adult to avoid, but as people age, it can get more difficult to maneuver around these hazards and make falls more likely.
In addition to trip hazards in the home, the aging process can also trigger some risk factors. For example, your senior loved one may develop reduced muscle strength, which can make it easier for them to lose their balance and sustain an injury from a fall.
These are also common risk factors for senior falls:
Decreased strength
Poor coordination
Limited mobility
Reduced eyesight
Hearing loss
Stiff or painful joints
Medical conditions
Cognitive disorders
Medication side effects
Seniors who fall are also more likely to sustain a serious injury. In many cases, fall-related injuries in seniors can have life-altering or life-threatening side effects that can negatively impact their ability to remain independent.
For example, hip fractures are a particular danger. It may take a senior up to 12 months to fully recover from a hip fracture that resulted from a fall-related injury. Seniors who undergo a hip fracture may also require transitional care once they've been discharged from the hospital and may still need to watch out for life-threatening complications. Many seniors never fully recover from a hip fracture and require around-the-clock care and support even after leaving the hospital.
Why Choose Fall Prevention from Visiting Angels Washington DC?
The good news is that the vast majority of falls and non-fatal fall injuries can be prevented with the help of a home care professional.
At Visiting Angels Washington DC, our Safe and Steady fall prevention program can help reduce the likelihood of falls for seniors by assisting seniors with everyday tasks and providing meaningful companionship.
We offer a wide range of senior care services that can help older adults stay safe at home. Our team will work with you to develop a care plan that includes the services that will best help your loved one stay safe. We will also work with your loved one's schedule so we can provide the support they need when they need it most.
Some of the ways we help seniors reduce the risk of falls in the home:
Clearing cluttered walkways and other trip hazards with light housekeeping assistance
Planning and preparing nutritious meals to help seniors keep up their strength and reduce the likelihood of loss of balance
Reminding seniors to take their medication and manage symptoms of medical conditions
Providing mobility assistance so seniors can safely use the stairs
Helping with bathing, grooming and getting dressed
Providing transportation
And more
In addition, our home care professionals also assist with reducing the risk of falls when providing other services, such as Alzheimer's care and palliative care.
Get Started with Fall Prevention from Visiting Angels Washington DC
To learn more about how our home care professionals focus on senior safety, call Visiting Angels Washington DC at 202-701-1437 and schedule a free in-home consultation.
Serving Washington, DC Metro Area
Visiting Angels WASHINGTON DC
7826 Eastern Ave NW #409
Washington, DC 20012
Phone: 202-701-1437