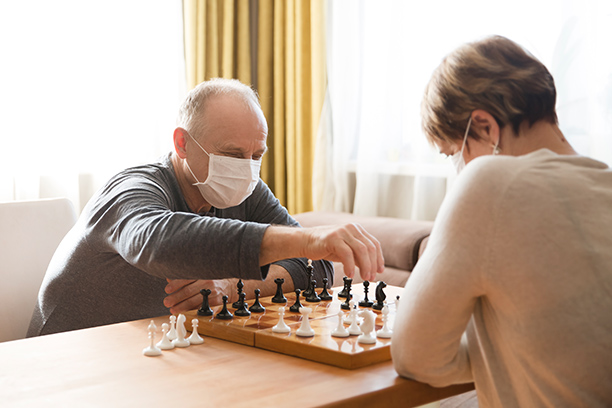 Respite Care for Seniors in Washington, DC
Learn how respite care from Visiting Angels provides relief and support for seniors and family caregivers in Washington, DC
Caring for an elderly loved one can be difficult. Although taking on caregiving responsibilities is a noble and selfless act, you also have to balance it with other priorities in your life, such as your family, your career and your own needs. In some cases, you may not be equipped to provide the support your loved one needs in order to remain in their own home. In times like these, you could use a helping hand.
Respite care from Visiting Angels Washington DC can be a valuable resource for both seniors and family caregivers. Our caregivers can provide short-term or temporary caregiving visits, making it possible for you to take time away from caregiving duties while ensuring your loved one continues to receive the care they need.
What is Respite Care?
Respite care involves temporary visits from a professional caregiver in order to offset some of the caregiving duties from the primary caregiver, which is usually a family member. While in most cases, our caregivers take on the lion's share of caregiving duties, respite services are provided in cases where family caregivers are performing most of this work on their own.
Who Benefits from Respite Services?
While respite care is primarily provided for the benefit of the care recipient, we also aim to give primary caregivers temporary relief, Family caregivers are at high risk of physical and mental exhaustion that is commonly referred to as "caregiver burnout." If you're one of the 40+ million Americans who acts as a family caregiver, our home care services can substantially reduce your risk of burnout and make caring for your loved one more manageable. If you need time to rest and recuperate or focus on your other priorities, Visiting Angels Washington DC can provide personalized home care services to your loved one to ensure they remain safe and comfortable.
Why Choose Respite Services from Visiting Angels Washington DC?
Visiting Angels Washington DC has been a reliable respite care provider for many families. Unlike assisted living facilities and other local home care agencies, we believe in a personalized approach to care that gives seniors the freedom to be independent and follow their everyday routine.
We specialize in assisting seniors with Activities of Daily Living (ADLs), which can become difficult over time due to age-related issues. Our respite care options include personal care services as well as companion care. Our care team will work with you to develop a care plan that includes the services your loved one needs and is compatible with their schedule.
Some of the home care services we regularly provide include:
Meal preparation
Medication reminders
Help with maintaining personal hygiene
Light housekeeping
Mobility assistance
Transportation
Help with running errands
And more
While we typically provide respite care on a short-term or temporary basis, our caregivers can also provide care on a routine basis on a weekly, biweekly or monthly schedule. We're also available to provide long-term care if your loved one needs more hands-on care.
Get Started with Visiting Angels Washington DC Today
Call Visiting Angels Washington DC at 202-701-1437today to learn how our home care experts can give you peace of mind!
Serving Washington, DC Metro Area
Visiting Angels WASHINGTON DC
7826 Eastern Ave NW #409
Washington, DC 20012
Phone: 202-701-1437