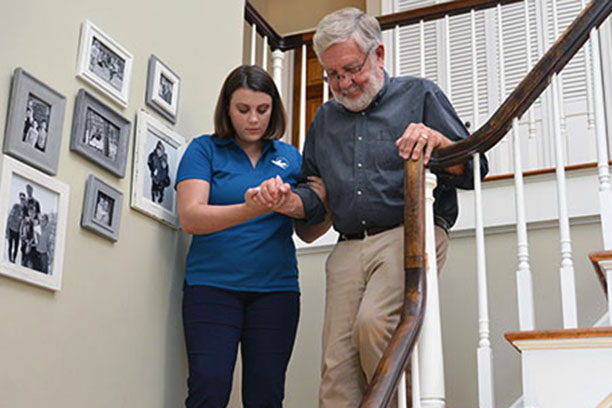 Personal Care Assistants Prevent Falls in Greater York & Hanover, PA
Many of us feel most safe in our homes; we feel in control of our environment, and like we have been able to customize the space to meet our individual needs and preferences. But for many seniors in York, East York, Dover, Red Lion, and nearby areas, trip and fall hazards in the home can be dangerous and life-changing. With help from a personal care assistant and our senior care services, your loved one can identify in-home hazards, maintain a safe environment, and enjoy better health in the long run.
Visiting Angels Has Personal Care Assistants to Help with Fall Prevention in York, Hanover, Dover, and Surrounding Areas
Falls can impact a senior's quality of life physically, mentally, emotionally, and socially. Extended recuperation in the hospital, a live-in facility, or physical therapy can be draining on the mind, body, and bank account. Loss of mobility or increased physical pain and discomfort can also lead to increased isolation and loneliness.
How Can Visiting Angels of York Help?
Our expert personal care assistants can help prevent falls by identifying hazards in the home. Sometimes that can mean adjusting habits as your loved one ages, especially bedtime routines, and overnight habits. Our services can also help those who have experienced a fall to keep up with their physical therapy, medication regimens, and activity or dietary recommendations from doctors, leading to a faster and more complete recovery.
Fall Risks
Falls can happen because of in-home hazards, and they can also result from pain and discomfort that comes from not adhering to medication regimens or not reporting side effects to the doctor. A personal care assistant understands that many seniors have complex medical needs; our job is to help your loved one access the right medical care and facilitate any daily needs resulting from their care.
Common fall hazards for seniors include:
Loose edges of rugs, carpeting, or doorways
Tight hallways or furniture and clutter in walkways
Mobility devices not used effectively or continually
No grab bars or non-slip pads in the bathroom or kitchen
Reducing the Risks
A personal care assistant from Visiting Angels can help your family identify any hazards in your loved one's home, as well as solutions like grab bars, non-slip pads, better footwear for your loved one, or better lighting for areas in their home.
If your aging loved one lives alone, they may need help ensuring that their home remains a safe environment long-term. We will be happy to schedule a free, in-home consultation that comes with a complimentary fall prevention assessment of your loved one's home! During this consultation, we can review costs, home care services, schedules, logistics, and any questions you may have.
Call Visiting Angels of York today to learn more about our senior care services and fall prevention program in York, Hanover, Dover, Red Lion, and the surrounding area.


Serving York, Hanover, Dover, Red Lion, and the Surrounding Area
Visiting Angels
YORK, PA
1840 E Market St
York, PA 17402
Phone: 717-751-2488