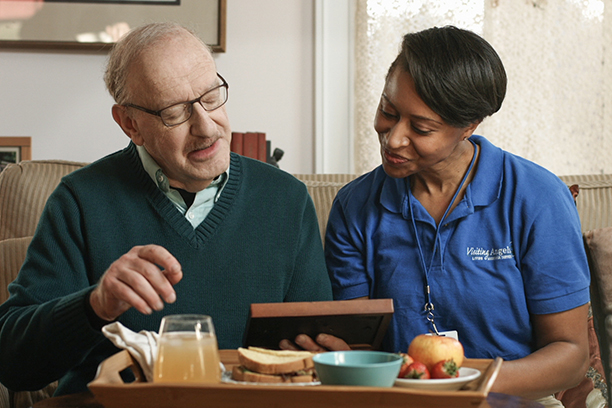 Ready-Set-Go Home Is Our Transitional Living Assistance Program for Seniors in York, Hanover, PA, and the Surrounding Area
At Visiting Angels of York, we know your number one concern is always the health and safety of your family. So, when an injury, accident, illness, or health event occurs that requires hospitalization of an aging loved one, it is important to learn from that experience and increase the resources around your loved one. Living assistance services can help your loved one recover from a medical event, maintain access to their healthcare providers, and even mediate the underlying cause of the problem.
Visiting Angels Offers Living Assistance Services to Help Transition from Hospital to Home in York, East York, Hanover, Dallastown, and Nearby Cities
Our transitional living assistance services for clients returning home from the hospital use a three-prong approach: we help your loved one at the hospital, at their home, and through our local agency. We are present each step of the way, providing holistic assistance to your loved one and your whole family.
Ready: The first step is for your family to connect with Visiting Angels of York and collaborate with us to build your customized care plan. At the agency, we will do all the planning and logistics to make sure that your loved one's needs can be met, whether that is around-the-clock monitoring, revising their medication schedule, or planning transportation for future medical appointments.
Set: We begin working with your loved one while they are still in the hospital. Our caregivers will make sure they understand your loved one's medical situation, any instructions provided by your loved one's medical care team, and what to watch for as your loved one heals.
Go Home: Finally, when your loved one is ready to be in their own home, our caregivers help ease the transition and make sure that your loved one always remains safe and comfortable. That includes helping with everyday needs—making meals, changing bedding, cleaning living spaces to maintain a healthy home environment—and watching to make sure your loved one's health remains stable.
The Importance of Transitional Care
Our essential living assistance services can give your loved one a healthier, easier, and safer transition back to their home after a hospitalization.
Not only will your loved one require more assistance throughout their first few days at home, but you will also need to be mindful of:
aftercare recommendations
changes in medication or medication schedules
changes in dietary needs or sleep habits
keeping follow-up appointments with your loved one's medical providers
Visiting Angels of York can help with each part of that homecoming process.
Contact Our Home Care Agency Today
At Visiting Angels of York, we are committed to reducing hospital readmission, and we have the experience and skill to help your family navigate your loved one's medical needs. In-home living assistance services can make a difference in your loved one's healing process today and ensure better long-term health for tomorrow. Call our local agency at 717-384-2373 to learn more about our Ready-Set-Go Home program for seniors in York, East York, Hanover, Dallastown, and the surrounding area.
Our caregivers are here to help with our senior care services!


Serving York, Hanover, Dover, Red Lion, and the Surrounding Area
Visiting Angels
YORK, PA
1840 E Market St
York, PA 17402
Phone: 717-384-2373
Hanover 717-630-0067