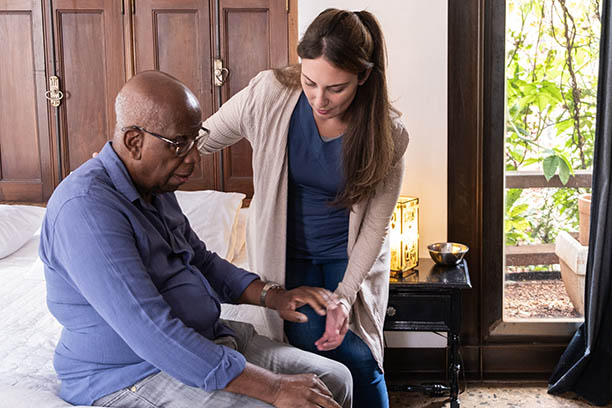 Certified Palliative Care in York, Hanover, PA, and the Surrounding Area
When most of us hear the phrase "palliative care", we think about a hospice environment or other end-of-life programs. In fact, using one on one care techniques can benefit seniors from all walks of life, no matter their health circumstances! At Visiting Angels of York, we know there's nothing more important than the well-being of your loved one, and that's why we offer a wide range of care options for all our clients.
Visiting Angels Offers Certified Palliative Care with a Holistic Approach to Our Elderly Clients in York, Hanover, Dover, and Nearby Cities
Palliative care is defined as a technique that seeks to reduce pain, increase comfort, and maintain quality of life. It is a holistic approach to care that can help seniors with diverse needs, no matter their life expectancy. This can be especially helpful if your loved one faces challenging health, mobility, or ability circumstances. Depression, loneliness, stress, and anxiety can all have major impacts on health, including physical health, and our care is designed to combat these stressors and alleviate other everyday needs.
Uplifting Seniors' Lives
At Visiting Angels of York, our goal is to always uplift the quality of life that your loved one experiences every day. We do this by providing a wide range of in-home care services and identifying ways to increase comfort and well-being. We will work with you to create a care plan customized to your loved one's physical, mental, emotional, social, and spiritual needs.
With a knowledgeable home care provider, seniors can benefit daily from our care techniques. We offer holistic care designed to meet your loved one's needs and find ways to increase their well-being. Using palliative care is an approach that works in the home, nursing homes, or other live-in facilities.
This service is part of our Life Care Navigation. Life Care Navigation is our spectrum of services, and your loved one might find themselves in need of different aspects of care as their golden years progress.
All senior care services can be included with any home care plan:
Our services are completely customizable so that we can build a care plan that will prove to be the most beneficial to your loved one. As your loved one's needs change, our care plan will change with them, making sure our client is always receiving the care they require.
Learn More About Our Care Today
If you are helping to care for a loved one in York, Hanover, Dover, Red Lion, or the surrounding area whose quality of life has been changed due to health needs, Visiting Angels of York is ready to partner with you and ensure that your loved one can make the most of every day. Contact our home care agency today to learn more about our Certified Palliative Care.
We look forward to assisting you and your loved one; contact Visiting Angels of York today to schedule a free, in-home consultation!


Serving York, Hanover, Dover, Red Lion, and the Surrounding Area
Visiting Angels
YORK, PA
1840 E Market St
York, PA 17402
Phone: 717-751-2488