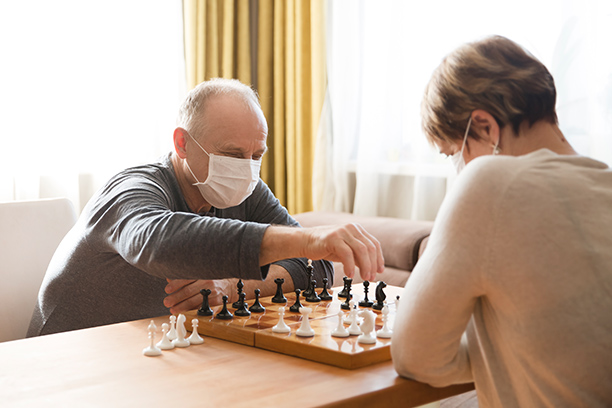 Long-Distance Elder Care in York, Hanover, PA, and Neighboring Communities
Visiting Angels Offers Long-Distance Elder Care to Seniors Living in York, Hanover, Dover, and Surrounding Areas
Today there are more ways than ever to stay connected with loved ones who are far away. For families who are helping to take care of aging loved ones, these tools have a vital purpose, enabling you to check in on the daily health and well-being of your loved one. If you are concerned about the quality of life of an aging parent or loved one who lives alone, that connectivity might just confirm the need for another pair of hands to help. At Visiting Angels of York, our elder care services can help you make sure your loved one stays safe and healthy no matter where in the world you go.
Long-Distance Care
When you are far away from an aging loved one, it can be challenging to help them meet their daily needs. There is no replacement for a local support network that your loved one can rely on for assistance. Your loved one might need one-on-one elder care if:
You notice that their personal grooming is becoming less reliable, such as not shaving or not brushing hair
Your loved one relies on pre-made or frozen meals, and does not seem to have access to fresh produce or the ability to cook a fresh meal
You notice that they seem to wear the same clothes over and over, or have dirty clothing
Your loved one has mobility challenges, or cannot move around their house comfortably alone
All these symptoms are common for seniors who are struggling with larger health problems or changes in their capabilities due to age. At Visiting Angels of York, we offer top-class elder care services because your loved one deserves the best possible quality of life. Your loved one should not have to experience shame, doubt, or worry about their ability to take care of themselves and their home.
We Are Here to Help
We know you would do it if you could—and that is why we are here to help. Long distance support is important—there is no replacement for the attention and affection of family members, no matter how far away they are! With our care, you can make sure that your loved one has every resource they need to stay healthy, safe, and comfortable while living independently. You will get regular updates from your loved one's caregiver about their health, mood, activities, and more.
A Network of Support
With Visiting Angels of York, you will have access to our network of local home care professionals, so there will always be someone nearby with the skill and experience your loved one needs. If your loved one moves, whether that is to a warmer climate or into a nursing home, a dedicated caregiver will still be available to provide one-on-one companionship, connection, and assistance.
Contact Visiting Angels of York
If you are concerned about the long-term well-being of a loved one who lives alone, there is a home care provider nearby who can help. Call Visiting Angels of York today to learn more about our elder care in York, Hanover, Dover, Red Lion, and the surrounding area.
Serving York, Hanover, Dover, Red Lion, and the Surrounding Area
Visiting Angels
YORK, PENNSYLVANIA
1840 E Market St
York, PA 17402
Phone: 717-751-2488
Hanover 717-630-0067