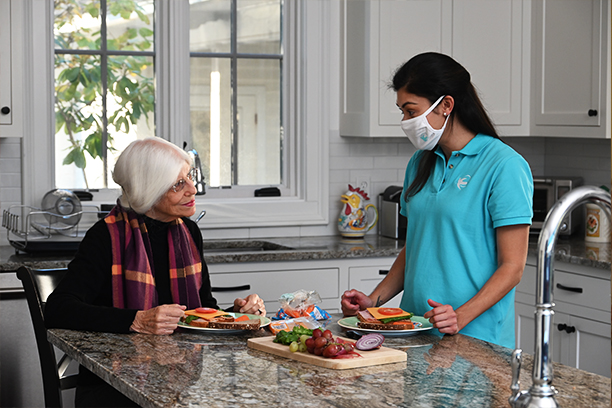 Home Care Providers in York, Hanover, PA, and Neighboring Cities
Visiting Angels Hires Only the Most Experienced Home Care Providers for Our Elderly Clients in York, Hanover, Dover, and Surrounding Areas
When it comes to picking a care team, you might think that the individual caregiver's personality is the most important factor. Or you might think that the overall cost of the care plan will make the most difference. We have even heard clients worry that they will have to change providers if their loved one's care needs change. With Visiting Angels of York, our home care providers can provide a customized solution for all your wants and needs.
Our Care Plans and Caregivers Go Hand-in-Hand
Just like health conditions can change over time, your loved one's care plan should be able to change over time. An experienced home care provider can help you monitor your loved one's health and identify changes that should be reported to your loved one's doctor. Our team of caregivers can be available to you on a customized schedule, including around-the-clock coverage when needed.
Our Caregivers Are Companions at Heart
The heart of what we do is companion care. Our home care providers work to build communicative, trustworthy relationships with your loved one and provide hands-on assistance with daily activities. We match our caregivers with clients based on expertise and specialties your loved one might need. We also look for qualities like honesty, empathy, and compassion. We have heard time and again that our caregivers become like family to our clients, and that is how we know we are successful.
Care Plans That Revolve Around Your Needs
Our experienced care coordinators will work with you to create a care plan that is designed to be customized to your loved one's unique needs. It is also designed to incorporate all aspects of health, including physical, emotional, mental, and social health. Our home care providers can help your loved one try a new hobby, visit a local senior center, or experience community events and festivals. Our goal is to offer your loved one opportunities to enrich their life every day.
Our caregivers can help with essential senior care services, including light housekeeping, laundry, linens changing, meal preparation, medication reminders, transportation, and more. Your loved one's care plan can also include personal care services, such as bathing, toileting, and grooming.
Contact Us to Learn More
If you are helping to meet the needs of an aging loved one who lives alone in York, Hanover, Hellam, or the surrounding area, Visiting Angels of York is here to help. Call our agency today to learn more about our home care providers and to schedule a free, in-home assessment with one of our care coordinators to go over any questions or concerns you may have about services.
Serving York, Hanover, Dover, Red Lion, and the Surrounding Area
Visiting Angels
YORK, PENNSYLVANIA
1840 E Market St
York, PA 17402
Phone: 717-751-2488
Hanover 717-630-0067