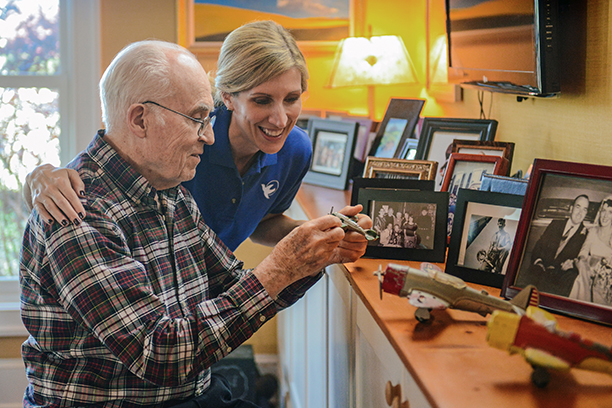 In Home Supportive Services: Caring for Someone with Alzheimer's in Alameda, CA and the Surrounding Area
In Caring for Someone with Alzheimer's, In Home Supportive Services are the Most Important Resource
While there is no cure for Alzheimer's, there are treatments and in home supportive services that can slow the worsening of dementia symptoms and improve the quality of life for those with the disease and their caregivers. If you suspect your loved one is showing symptoms of Alzheimer's, it is extremely important to be proactive by getting them to their physician, and if a diagnosis is made, to get a home care team and plan in place as soon as possible.
10 Warning Signs of Alzheimer's
Memory loss that disrupts daily life

: not remembering recent events, names, where things go, and other new information.

Challenges in planning or solving problems:

Having trouble following a familiar recipe or keeping track of monthly bills, difficulty concentrating and taking much longer to do things than previously should be taken seriously.

Difficulty completing familiar tasks at home or at work.

Confusion about time and place:

People with Alzheimer's can lose track of dates, seasons and the passage of time.

Trouble understanding visual images and spatial relationships:

look for difficulty reading, judging distance and determining color or contrast.

New problems with words in speaking or writing:

Signs include trouble finding the appropriate words, completing sentences, and following directions and conversations.

Misplacing things and losing the ability to retrace steps:

People with Alzheimer's may put things in unusual places or accuse others of stealing.

Decreased or poor judgment when making decisions:

There may be issues with monetary scams or less attention to grooming and hygiene.

Withdrawal from work or social activities.

Changes in mood or personality

: Signs include increased depression, fearfulness, anxiety or suspicion, rapid and persistent mood swings, withdrawal, and disinterest in usual activities.
If a physician diagnoses Alzheimer's, the more proactive you are in making decisions regarding in home supportive services, the more you can manage the disease.
If you or your loved one has been diagnosed with Alzheimer's or a related dementia, know that you are not alone. For more information or to explore in home supportive services, call Visiting Angels of Alameda at 510-269-2999 or request Alzheimer's care here to learn more.
Serving Alameda, Oakland, Piedmont, Berkeley and Surrounding Communities
Visiting Angels
ALAMEDA, CA
2447 Santa Clara Ave #300B
Alameda, CA 94501
Phone: 510-269-2999
Fax: 510-269-2651