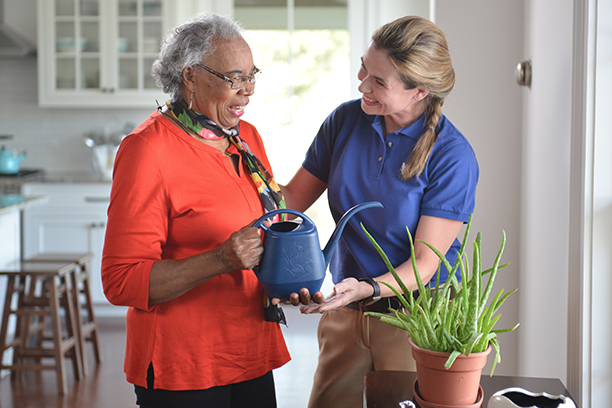 End of Life Care in Alameda, CA and the Surrounding Area
As you work through your loved one's end of life, we'll be there for you through every step of the way with our end of life care
Dealing with a family member's diagnosis of a shortened life expectancy is difficult for all family members. It's incredibly important that all families have access to comforting and supportive care. Especially care in homes in order to ease as much stress as possible. At Visiting Angels of Alameda, we are passionate about providing excellent end of life care for your loved one and ensuring that their final days are as comfortable and as enjoyable as possible. Our in home care doesn't include hospice care, but we can work alongside the top hospice workers and provide support throughout the process.
Providing All Aspects of Senior Care
Visiting Angels of Alameda can provide all a person needs for their end of care in home support. Whether it's laundry, light house cleaning, or meal preparation we can help your loved ones lived as comfortably as possible. Caregivers also provide essential personal home care services to alleviate your loved ones' stress and comfort. We assist in personal tasks like bathing, dressing, and daily hygiene.
When an individual gets the diagnosis of a limited life expectancy, a close family member usually gets the responsibility of end of life care. That is a huge amount of stress to be under, especially when dealing with the emotional stress of the event at the same time. That's why we're here to help you with whatever you need. We provide care in homes through the Life Care Navigation collection of our senior care services. Our comforting approach is detailed in a program entitled Practical Care Tips for End of Life. That program was developed to help caregivers understand how to help families and their loved ones during this difficult time in life.
Kind Care and Support
We are passionate about providing compassionate care and support to families and their loved ones. We invite you to visit us to decide whether it's right for you. We will be more than happy to provide any information that you may need and schedule a convenient in-person meeting with a Visiting Angels of Alameda care director.
For more information about end of life care or to schedule an in home meeting with one of our care directors, contact us today or call 510-269-2999.
Serving Alameda, Oakland, Piedmont, Berkeley and Surrounding Communities
Visiting Angels
ALAMEDA, CA
2447 Santa Clara Ave #300B
Alameda, CA 94501
Phone: 510-269-2999
Fax: 510-269-2651