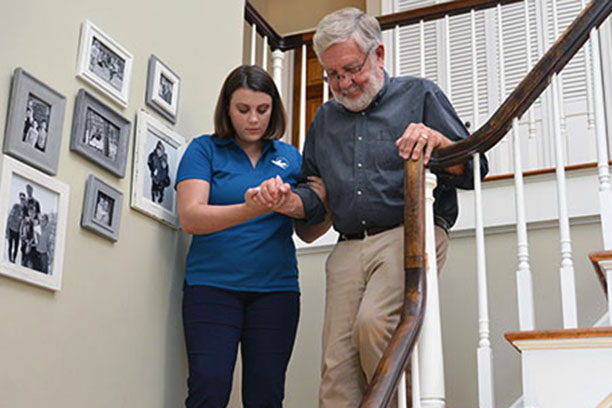 In Home Health Care: Fall Prevention in Alameda, CA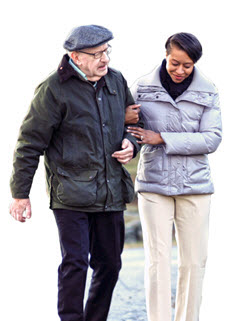 Seniors can fall within their home anytime. Visiting Angels in Alameda, CA can help your loved one prevent falls with our in home health care services.
Falls are often thought of as being an unpredictable part of life. But, that's not necessarily the case. They can be life-altering, especially for older adults. A fall can result in several different injuries including a broken hip, a concussion, and a fracture. Over 800,000 people are hospitalized every year due to falls. Those who end up hospitalized may have to spend an extended period of time in a long-term center. Some of these seniors may never go home again.
And often, those who fall are more likely to fall again. In turn, these individuals' lives may have to change in order prevent this potentially devastating event from happening again. But, falling doesn't just affect an individual physical health. Falls affect seniors mentally as well and cause them to break away from people and events that they've loved in the past. Visiting Angels of Alameda In Home Health Care Services helps seniors live comfortably in their own home.
Falls Affect A Senior's Emotional Health
The trauma of falling can drastically reduce a person's quality of life. Being on high alert always to combat that ever-present fear of falling can cause seniors to avoid leaving the house and avoid being social with their friends or family. This may cause relationships that they've maintained for years to just slip away. This habitual, anti-social behavior can even lead to anxiety, loneliness, and depression. Our in home health care services can help your loved one feel safe within their home, leading to a better social life.
Visiting Angels In Home Health Care Services in Alameda, CA and Surrounding Areas
But, contrary to popular belief, falls don't just happen. There are a ton of risk factors that raise a person's risk of falling. Those risk factors might be a medical problem, a physical condition, or the home environment. Each potential fall is unique for every individual. They can also be a combination of the two or all three. Some examples of common risk factors are arthritis, lack of grab bars in the bathroom, and poor eyesight. By acknowledging these risk factors as they come about, many falls can be prevented in the long run with our in home health care services. A huge challenge in becoming a senior is dealing with fall and injury prevention. Visiting Angels Alameda is committed to educating older adults, their families, service providers, and caregivers about the many ways to reduce falls. Improving the quality of our client's life is our passion and we will do everything that we can in order to achieve it.
Contact us to learn more and schedule a free in home care fall prevention visit.
Download Your Free Safe & Steady Fall Prevention Resource Guide today.
Serving Alameda, Oakland, Piedmont, Berkeley and Surrounding Communities
Visiting Angels
ALAMEDA, CA
2447 Santa Clara Ave #300B
Alameda, CA 94501
Phone: 510-269-2999
Fax: 510-269-2651