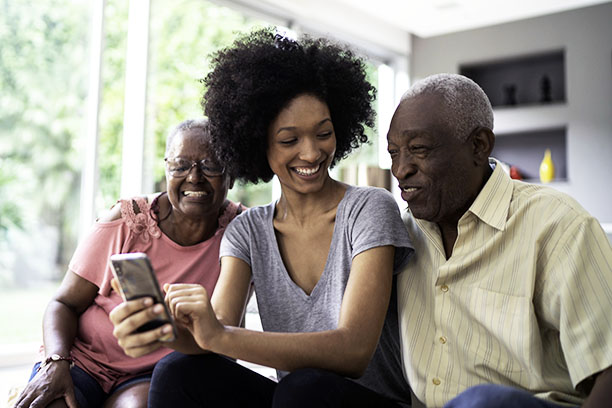 Senior Home Care Services In Alameda, CA and Surrounding Areas
Is your loved one looking to stay social via social media? Visiting Angels Alameda Senior Home Care Services can help your loved with our social care program.
The holistic method is the way Visiting Angels Alameda approaches the process of providing home care services. What does this mean? The holistic approach, as its name, implies, looking at the whole picture—meaning providing support for the client in and out of the home. How? With the help of modern technology like FaceTime, Skype, and Facebook to name a few. This approach keeps our elderly clients connected and engaged with the ones who care. Our senior home care services also tie into our social care program.
Current Studies on Modern Technology and Seniors
According to a study published in 2011, it concluded that healthy aging, especially in elderly women was widely affected by social participation. As social participation decreased, the potential for social isolation also increased and impacted their health.
A study has shown that seniors who check Facebook or other social networking sites enjoy a positive emotional experience. And this is objectively measured with the help of pupil dilation, brain stimulation, and breathing rates.
Additionally, seniors who use Facebook are basically developing their working memory? This was a study made by the University of Arizona showing a 25% improvement in seniors mental updating skills.
And last but not the least, depression is reduced in seniors by as much as 20% by just surfing the internet.
The Advantages of Being Social
Social interaction exercises your brain, however, it is best coupled with an overall healthy lifestyle. So, here are the numerous benefits that the elderly can enjoy by being socially active with senior home care services:
Lower risk for mental health problems, like depression
Reduced blood pressure
Potentially lowering the risk of Alzheimer's disease
Lowered risk for rheumatoid arthritis, osteoporosis, some cancers, and cardiovascular issues.
Visiting Angels Alameda Senior Home Care Services
Essentially, the Visiting Angels Alameda social care program includes any or all of the following services:
Help them navigate surfing online, searching for information, shopping, and even logging in and creating their personal accounts.
Help them create a Facebook account, managing their account, and most of all interacting with their friends and loved ones.
Help them navigate and use FaceTime, Skype, Instant Messenger, send or read e-mails, and even mobile texting.
If needed, we are also prepared to help them use their mobile phones.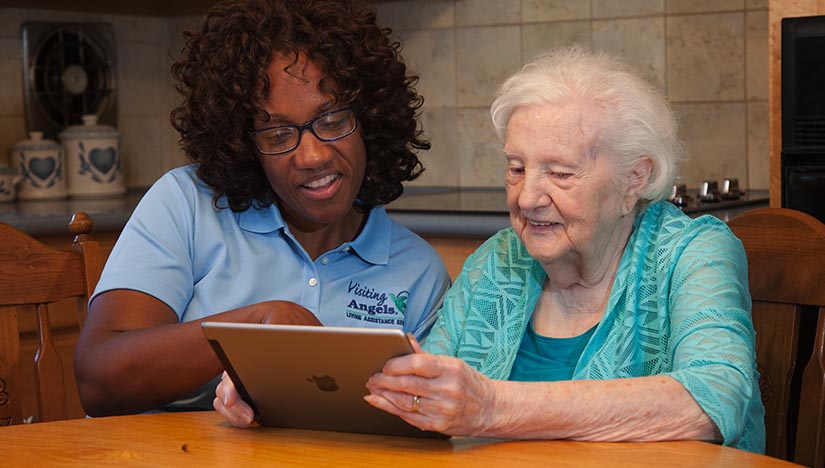 Because of this program, I was able to experience two of the greatest joys in life – becoming a grandmother and seeing my son become a new father. Skyping and Facebooking with my son and his family are now a normal part of my life. It helps me feel like I'm still an important part of their lives even though I'm miles and miles away.

* Washington, D.C. based Phoenix Center
** Journal Cyberpsychology, Behavior, and Social Networking
Serving Alameda, Oakland, Piedmont, Berkeley and Surrounding Communities
Visiting Angels
ALAMEDA, CA
2447 Santa Clara Ave #300B
Alameda, CA 94501
Phone: 510-269-2999
Fax: 510-269-2651