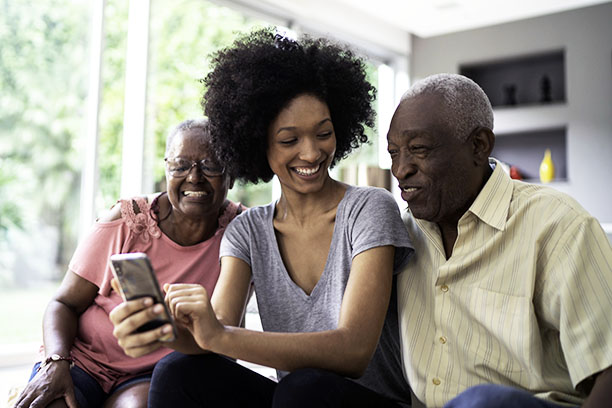 Social Care: Elderly Home Care Program for Seniors in Bridgeport, WV
Maintaining social relationships is a vital part of elderly home care. The benefits of being social include lower blood pressure, reduced risk for depression, as well as a potentially reduced risk for Alzheimer's disease. Using modern technology is a great way to help seniors stay connected with their family members, friends, and the greater Bridgeport community in the comfort of their own homes. For example, Facebook use among older adults has risen 14% recently. With almost 2.45 billion active users, seniors can use Facebook to reach out to old friends, stay in touch with their grandkids, or connect with local seniors who share an interest.
Call Visiting Angels of Bridgeport at 304-470-4631 to schedule a free consultation.
How Our Elderly Home Care Program Can Help Your Loved One in Bridgeport, Fairmont, and Nearby Cities
Our Social Care Program teaches Bridgeport seniors many ways to use technology to enhance their in-home care. We instill fundamental skills that help Bridgeport seniors navigate the World Wide Web. They include:
Using a cellphone (texting, calling, using apps, etc.)
Sending emails
Navigating Facebook
Creating a Facebook account
Researching information on an online search engine
Shopping in online stores
Logging into a computer
Below are studies that showcase the beneficial ties between seniors and technology use:
Studies conducted by the Washington, D.C based Phoenix Center* revealed that surfing the internet can decrease depression in seniors by as much as 20%.
The University of Arizona discovered that 25% of their sample group of seniors improved their mental "updating" skills. Mental updating skills include memory and working skills.
The Journal of Cyberpsychology, Behavior, and Social Networking** learned that seniors who used social networking platforms (FaceTime, Facebook, etc.) reacted positively, measured by pupil dilation, brain stimulation, and breathing rates.
Our social care program gives seniors the tools to stay connected to the people they love most. Would your loved one benefit from our elderly home care? Call Visiting Angels of Bridgeport at 304-470-4631 for more information and to schedule a free consultation.


"Because of this program, I was able to experience two of the greatest joys in life – becoming a grandmother and seeing my son become a new father. Skyping and Facebooking with my son and his family are now a normal part of my life. It helps me feel like I'm still an important part of their lives even though I'm miles and miles away."

* Washington, D.C. based Phoenix Center
** Journal Cyberpsychology, Behavior, and Social Networking
Serving Harrison, Taylor, Barbour, Upshur, Lewis, and Marion Counties, West Viriginia
Visiting Angels
BRIDGEPORT, WV
212 Newton St
Bridgeport, WV 26330
Phone: 304-842-0199
Fax: 304-842-1180