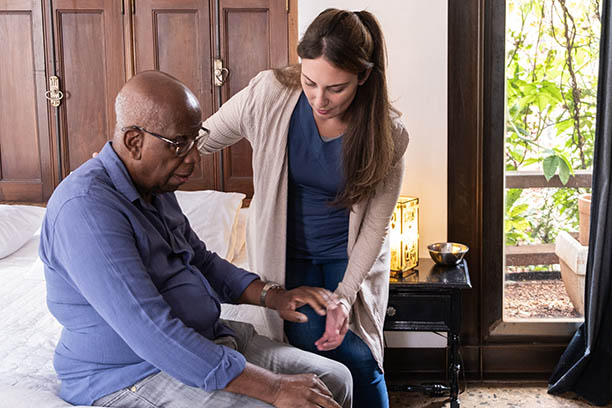 Palliative Care for Seniors in and Around Carrollton, TX
If your older loved one has a chronic sickness or condition, they will most likely need some in-home support to continue living independently. Regularly, families may help with day-to-day responsibilities. However, unwell seniors often need emotional assistance and comfort to maintain hope and a good attitude despite their condition.
Fortunately, palliative care from Visiting Angels Carrollton can help your loved one receive physical help with daily duties and comfort and support from a loving caregiver. Our services are centered on helping seniors in Carrollton, Coppell, Farmers Branch, and surrounding areas in Texas remain safe, comfortable, and content in their homes.
What is Palliative Care?
Palliative care, which derives from the Latin term palliare, which means "to cloak," is a service that tries to relieve pain and comfort seniors living with a chronic disease. It is comparable to hospice care; however, palliative services are available to anybody, regardless of life expectancy, while hospice treatments are often designated for those with a life expectancy of six months or less.
How Can Palliative Services Help Seniors?
If your loved one has been living with a chronic illness for some time, you know they need support with daily duties. However, your loved one will benefit the most from more extensive care. A chronic disease may have an influence on your loved one's emotional and social well-being as well as their physical health. Palliative care fills in the gaps by addressing your loved one's social, emotional and spiritual needs and physical needs.
How Can Visiting Angels Carrollton Help My Loved One?
When you choose palliative care from Visiting Angels Carrollton, your loved one will get care that is tailored to their specific needs. Many families in Dallas County, TX rely on us because our caregivers acquire non-medical palliative care certification, allowing them to provide the comprehensive in-home care our clients need to be comfortable and satisfied in their own homes.
When providing palliative home care, we focus on:
Physical needs
Making certain that the client's physical demands are satisfied in order for them to feel comfortable. This might involve ensuring that clients eat enough throughout the day, bathe or shower on a regular basis and wear clean clothing.
Social needs
Encouraging social engagement and prevention of emotions of loneliness and isolation. This might entail offering meaningful companionship and discussion as well as assisting clients in maintaining contact with friends and family.
Emotional needs
Assisting seniors in having fun while concentrating on what is essential to them. This might involve assisting them with their daily routine and joining them in some of their favorite hobbies and activities.
Spiritual needs
Bringing optimism back into our clients' lives and assisting them in finding peace of mind. This might entail sincerely listening to their issues and forming great, long-lasting bonds with them.
Schedule a FREE In-Home Consultation
Call Visiting Angels Carrollton at 214-368-2225 to learn how our home care services can help your loved one stay comfortable!
Serving Carrollton, Farmers Branch, Coppell, North Branch and Surrounding Areas in Dallas County, TX
Visiting Angels
CARROLLTON, TX
3010 Lyndon B Johnson Fwy #1200
Dallas, TX 75234
Phone: 214-368-2225