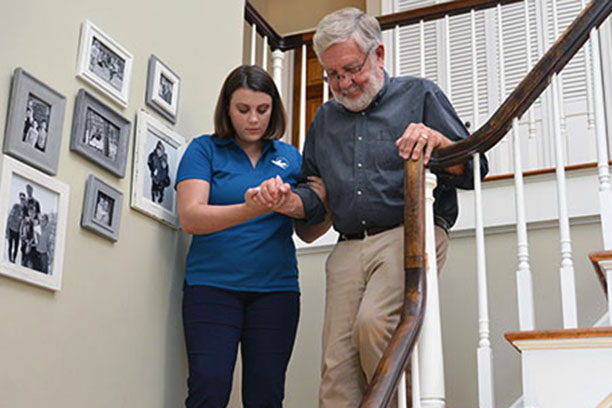 Fall Prevention: How Our Professional Home Care Services Help Seniors in and Around Carrollton, TX Stay Safe
If you have an elderly parent or relative who lives on their own, their safety is one of your primary concerns. Many families are concerned about the likelihood of a senior loved one falling, especially in their own home. Did you know that one out of four adults over the age of 65 fall every year and 75 percent of falls occur inside the home? There are many factors that can contribute to an increased chance of falling. Fortunately, there's hope.
At Visiting Angels Carrollton, we're committed to providing top-quality professional home care services for seniors in Carrollton, Coppell, Farmers Branch and surrounding Texas communities. With our fall prevention services, we help seniors stay safe so they can maintain their independence.
Are you looking for ways to keep your loved one safe and avoid falling in their own home? Check out our Safe and Steady Fall Prevention Resource Guide!
This guide includes information about:
How falls impact seniors physically, emotionally and socially
In-home risk factors that can increase the likelihood of falling
Precautions that can reduce fall risk inside the home
In-home and lifestyle changes seniors can make to decrease the likelihood of falling
A 59-point home safety checklist to ensure your loved one's home is safe
And more
Click here to download our guide
How Do Falls Impact Seniors?
Although everyone is at risk of falling and injuring themselves, seniors are particularly prone to serious injury after a fall. Because the aging process can make a senior's body more fragile, one out of every five seniors who fall suffer from a serious injury.
Some injuries can be difficult to recover from. For example, many seniors who injure themselves from falling end up with a hip fracture, which can take up to one year to recover from. A long recovery period can impact your loved one's everyday routine, their physical health, emotional well-being and so much more.
Even after they've recovered, many seniors remain cautious and do what they can to keep themselves safe. This can come at the expense of their social life or mental health. It's obvious to see that falling can have negative consequences in a variety of ways. With professional home care services from Visiting Angels Carrollton, your loved one can maintain their safety, independence and a high quality of life.
How Our Professional Home Care Services Can Help
There are many risk factors for falls, especially for seniors. In addition to in-home environmental factors, your loved one could be susceptible to a fall because of side effects from medication, chronic illnesses that affect their balance and cognition, loss of strength due to age-related issues or feeling weak because they haven't had anything to eat that day.
Fortunately, many risk factors can be reduced with professional home care services from Visiting Angels Carrollton. Unlike other local agencies, we tailor our care plans to meet the needs of each and every senior in our care. So, when you choose us as your partner in senior care, your loved one will get the services they really need when they need them the most. Because of our compassionate caregivers, your loved one will be able to maintain their independence and dignity while still being safe at home.
Here are some ways our fall prevention services can help:
Our light housekeeping services can take care of in-home fall risks such as cluttered walkways, making it safer for your loved one to get from room to room
We can prepare healthy meals and snacks so your loved one has the energy they need to get through the day
If your loved one has any prescriptions, we can remind them to take their medication when needed and keep and eye out for any side effects that can impact their safety
And more
When it comes to helping elderly adults in Dallas County stay safe at home, no one does it better than the caregivers at Visiting Angels Carrollton. Our goal is to help seniors improve their quality of life and maintain their independence.
Call us at 972-694-0811 to learn more about fall prevention and other professional home care services we offer.
Serving Carrollton, Farmers Branch, Coppell, North Branch and Surrounding Areas in Dallas County, TX
Visiting Angels
CARROLLTON, TX
3010 Lyndon B Johnson Fwy #1200
Dallas, TX 75234
Phone: 214-368-2225