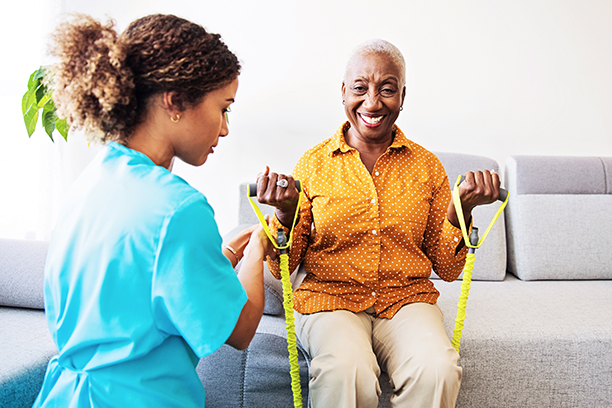 Private Duty Care
Private Duty Home Care in the Carrollton TX Area
As loved ones age and begin to struggle with living independently, it can be increasingly stressful to leave them by themselves. You might worry they could suffer an injury, struggle with simple tasks, forget important things like medication, leave their home and become lost, or simply feel lonely on their own. Private duty home care eases the worry of leaving your parent or relative alone. By pairing your loved one with a caregiver from Visiting Angels Carrollton TX, you can rest assured that your loved one is being watched over by a caring and capable in home care professional.
At Visiting Angels Carrollton TX, we understand that aging affects each person differently. That's why we create custom private duty home care programs for each of our clients. Before starting care, we meet with your loved one to see what level of assistance they require and what parts of their day-to-day life are most impacted by having grown older. At Visiting Angels Carrollton TX, we make sure we know your loved one's situation inside and out before beginning care. Then we design your loved one's in home private duty care accordingly.
With private duty home care from Visiting Angels Carrollton TX, we make sure to work around your schedule. We know you make every effort to be there for your loved one, but demands on your time – whether from work, family, or much-needed "you" time – make it impossible for you to be there 24/7. When it comes to home care, our job is as much about providing assistance for your loved one as it is about keeping your life and the lives of your family members manageable. That's why we schedule our care whenever you need us.
Our availability extends to every hour of the day and to every day of the week. Should your loved one require afterhours, overnight, or all-day private duty home care, our staff will be able to accommodate you. We understand that you're concerned for your loved one's safety. We want to do everything we can to help out. Any time you call our office and have to leave a message, we'll return your call within 15 minutes.
To discuss private duty home care for your loved one with a member of our team, call Visiting Angels Carrollton TX today.
Serving Carrollton, Farmers Branch, Addison, Dallas & Surrounding Areas
Visiting Angels CARROLLTON, TX
8350 N Central Expy #M1018
Dallas, TX 75206
Phone: 214-368-2225