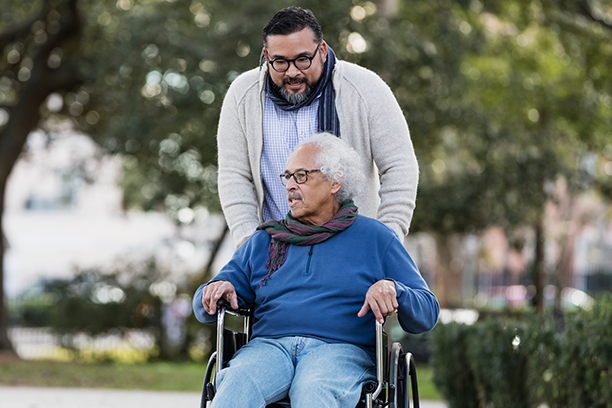 Visiting Angels Services Help Reduce Readmissions in Carrollton
Recovering after hospitalization or rehabilitation can be difficult for many elderly residents in Carrollton, Coppell, Farmers Branch and surrounding Dallas County, TX communities. This transition can be made easier for your loved one with the Ready-Set-Go Home program from Visiting Angels Carrollton.
This program has a three-pronged approach to providing home care services for seniors who are returning home from the hospital to reduce the chances of readmission. We can assist you with coordinating your loved one's return home, assisting them throughout the transition and supporting them as they gradually begin to reclaim their independence at home.
How Can Professional Home Care Services Help My Loved One After Being Discharged?
Most hospital readmissions can be prevented simply by following a doctor's advice. However, this is a lot easier said than done for many seniors. Seniors who are recuperating at home must have a solid network of friends and family to lean on to adhere to the strict instructions of their healthcare provider.
This is exactly what the Ready-Set-Go Home program from Visiting Angels Carrollton aims to accomplish. Our caregivers can provide home care services in compliance with recommendations from your loved one's medical team alongside you and your family so your loved one can recover at home and avoid being readmitted. We offer completely customized home care services to ensure that your loved one receives the care they require to make a full or partial recovery.
Here's how the Ready-Set-Go Home program works:
At the hospital - Our Ready-Set-Go program begins throughout your loved one's hospital stay. To help you and your family through this difficult time, one of our caregivers can visit your loved one in the hospital or other medical facility. Additionally, they can help your loved one and your family navigate the process of being discharged. We created a transitional care guide you may use while your loved one prepares for release. It includes information about discharges, questions to ask doctors and nurses and tips for lowering the likelihood of readmissions.
At home - Upon your loved one's return home, one of our in-home care experts can help them with the day-to-day tasks necessary to promote a speedy and painless recovery at home. In the event of any changes in your loved one's health or well-being, our caregivers are well-versed in identifying common signs and symptoms and alerting the rest of the family as soon as they are observed. For family caregivers, this stage of the Ready-Set-Go Home program can provide a much-needed break while still allowing you to spend quality time with your loved one.
At our office - At Visiting Angels Carrollton, our office staff can help your family anytime as your loved one recovers. By identifying patients more likely to be readmitted to the hospital, we can use various services and methods to help prevent readmissions. Our team can also remind your loved one to take medications and go to follow-up appointments, drive them to appointments and go with them, coordinate meal and medication deliveries, and so much more.
Making sure an elderly loved one recovers after being hospitalized can be a challenge. But with professional home care services from Visiting Angels Carrollton, you can know your loved one is in good hands.
Schedule a FREE In-Home Consultation
Call Visiting Angels Carrollton at 214-368-2225 to learn how the Ready-Set-Go Home program can help your loved one.
Serving Carrollton, Farmers Branch, Coppell, North Branch and Surrounding Areas in Dallas County, TX
Visiting Angels
CARROLLTON, TX
3010 Lyndon B Johnson Fwy #1200
Dallas, TX 75234
Phone: 214-368-2225