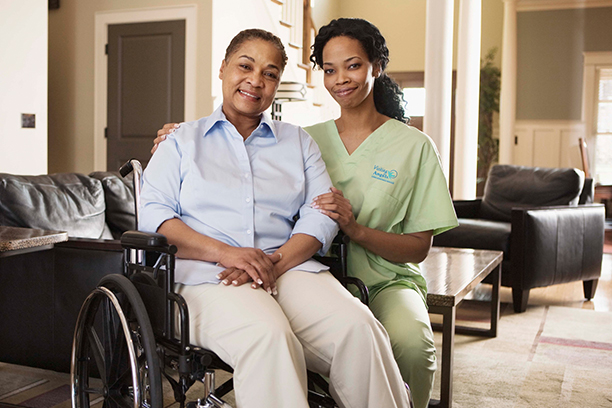 How to Get Started with In-Home Elderly Care Services from Visiting Angels Carrollton
At Visiting Angels® Carrollton, we understand how difficult it may be to learn that an elderly loved one needs in-home care. If your loved one is having issues with everyday tasks or is dealing with a chronic ailment, moving into an assisted living facility isn't their only solution. Our in-home elderly care services can help alleviate your stress while ensuring your loved one has access to high-quality senior care that allows them to age in place.
If you're looking into your options for home care for the first time, determining the next steps might be tricky. That's why the team at Visiting Angels Carrollton makes it simple for families in Carrollton, Coppell, Farmers Branch and surrounding Texas communities to begin working with one of our experienced caregivers. Simply call our office to set up a no-obligation consultation. Our care coordinator will visit with you and your loved one in person to create their personalized care plan. Finally, we will assist you in choosing a caregiver from our staff who can aid them in maintaining their independence.
Get the Most Out of an In-Home Consultation
Our in-home consultations are designed to provide your family with the information you need about our in-home elderly care services. We also utilize this time to address any questions you may have about our team or the services we provide, to discuss your loved one's daily routines and care needs and to provide suggestions that will assist your family understand how we can best support your loved one.
Our discussions also allow our staff to get acquainted with your loved one's personality and daily routine. This helps us find the best caregiver match for your loved one.
Here are some topics our care coordinators often discuss during consultations:
Physical needs: We can discuss the everyday obstacles that your loved one experiences with chores like bathing, grooming and cleaning, as well as how our in-home personal care services can assist.
Social and emotional needs: We can work with your family to determine how our companion care services will meet your loved one's needs for social contact and companionship while also improving their quality of life.
Logistics: We will go through the details of our in-home elderly care services, such as hourly rates, payment methods, dealing with unforeseen events and rescheduling care visits.
If you determine that Visiting Angels Carrollton is the best option for your loved one, our care coordinators can work with you to build an individualized care plan. We will consider your loved one's care needs and schedule to develop a care plan that incorporates the services they need on a timetable that fits with their daily routine.
Once we've established a plan of care, we'll start the process of finding a competent caregiver to assist your loved one on a daily basis. We examine essential factors such as your loved one's personality, whether our caregivers can provide the care your loved one needs and scheduling availability throughout this process. Our objective is to ensure that our caregivers and care recipients are completely compatible. This lays the groundwork for a treasured connection that your loved one can rely on in times of need, and it enables us to deliver great in-home care.
What if I Live Outside of Dallas County?
Even if you don't reside in or around Carrollton, our team can still include you in the consultation. For family caregivers who live a great distance away from their loved ones, we provide long-distance consultation solutions. Furthermore, while providing care, our staff will remain in touch with you regularly to keep you up to speed on your loved one's health, safety and well-being.
We realize that you may be concerned about your loved one's capacity to live on their own when you can't always be there to check on them, so when you select Visiting Angels Carrollton, we want to offer you peace of mind that your loved one is always in excellent hands. We can provide your loved one with the help they need to live out their golden years at home by providing personal care assistance, medication reminders, transportation aid and other in-home elderly care services.
Call Visiting Angels Carrollton at 972-694-0811 to schedule a free in-home consultation with our home care agency today!
Serving Carrollton, Farmers Branch, Coppell, North Branch and Surrounding Areas in Dallas County, TX
Visiting Angels
CARROLLTON, TX
3010 Lyndon B Johnson Fwy #1200
Dallas, TX 75234
Phone: 972-694-0811