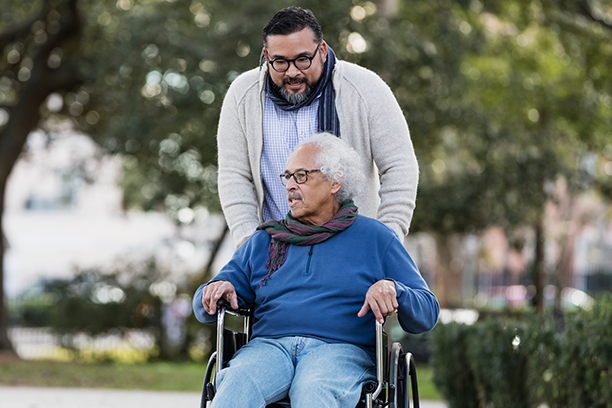 What is In-Home Care and How Can It Help Seniors in Carrollton, TX and Surrounding Areas?
When a senior loved one is struggling with simple everyday tasks like meal preparation or simply getting in and out of bed, it may be time to consider professional support. There are many options for senior care in Carrollton, Coppell, Farmers Branch and throughout Dallas County, TX, so it can be a challenge to find the perfect solution for your specific scenario.
Some families assume that nursing homes, assisted living facilities and similar residential communities are always the best choice for seniors who have age-related issues. However, the reality is that many seniors prefer to live on their own and follow their own routine. Having to move to new surroundings will not only make your loved one get used to unfamiliar settings, but they'll also need to follow the facility's schedule. That's why some seniors wish to remain in their own home, often referred to as "aging in place." If this is what your loved one wants, you should look into your options for in-home care.
If you're struggling to understand whether in-home senior care is the right choice for your loved one, Visiting Angels® Carrollton can help. We'll guide you through every step of the decision-making process so you can make care decisions that give you peace of mind and promote your loved one's overall well-being. It's this commitment to supporting families through difficult times that has made us one of Carrollton's most trusted senior care agencies.
How Can In-Home Care Benefit My Loved One?
At Visiting Angels Carrollton, we understand you simply want the best for your loved one. As you consider whether in-home senior care is the right option for your loved one, you may worry about their security or wonder how they can maintain their independence while being supported by a professional caregiver. We'll address these concerns and more to ensure you're completely confident when you make the decision to proceed with in-home care.
Here are some ways that your loved one could benefit from receiving professional care at home:
In a nursing home, your loved one will receive care from whoever is on the clock. But with in-home elder care, your loved one will be paired with their own caregiver who will provide one-on-one assistance with Activities of Daily Living (ADLs), as well as meaningful and loving companionship.
With in-home care, care plans can be personalized to meet your loved one's specific needs. For example, their care plan can include services that can help them manage symptoms of a chronic illness or medication reminders to ensure they're taking their medicine at the right time.
Your loved one can continue to follow their everyday routine and stick to their own schedule while getting the support they need.
Your loved one will be able to remain in the home they've lived in for years, surrounded by the things they love and the memories they've created over time.
Why Choose Visiting Angels Carrollton?
Why do families who are looking for in-home care choose Visiting Angels Carrollton? It's because we believe in a personalized, one-on-one approach to care for every senior we work with. That means we'll work with you and your loved one to create a plan of care that includes the services they need while working with their schedule.
We'll take the following steps to give you peace of mind:
Coordinating an in-home consultation with you and your loved one
Answering your questions about our senior care services, costs, scheduling and special requests
Creating a personalized care plan that accommodates each of your loved one's specific needs
Selecting a professional care provider who is uniquely suited to deliver the requested care services
Providing ongoing monitoring and regular updates about your loved one's well-being
Adjusting the care plan as their needs and circumstances change over time
While most of our care recipients and their families are able to put plenty of time into researching their options for senior care, sometimes the need for in-home care arises out of the blue. Visiting Angels Carrollton is prepared to respond quickly to urgent requests for care in the case of an unexpected situation such as a last-minute discharge from a medical facility.
Our caregivers at Visiting Angels Carrollton can provide personalized in-home care services for seniors who want to age in place as well as those who have already moved out of their own homes. We offer bedside assistance at nursing homes, in-hospital support and transitional care to help elderly adults make a successful move to a new living environment.
Get started with a free in-home consultation today by calling Visiting Angels Carrollton at 972-694-0811!
Serving Carrollton, Farmers Branch, Coppell, North Branch and Surrounding Areas in Dallas County, TX
Visiting Angels
CARROLLTON, TX
3010 Lyndon B Johnson Fwy #1200
Dallas, TX 75234
Phone: 214-368-2225