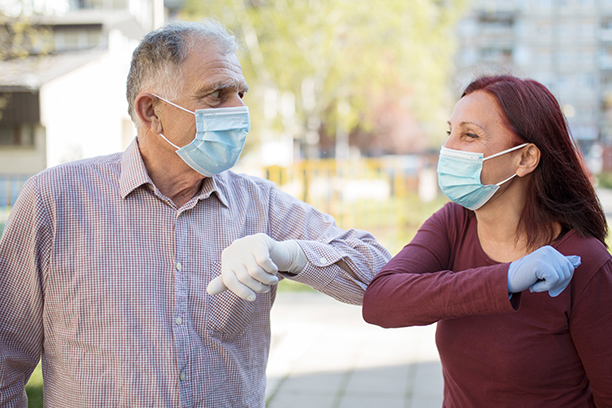 In-Home Supportive Services for Seniors with Chronic Illnesses in Carrollton, TX and Surrounding Areas
Independently managing a chronic condition can be especially difficult for elderly people. In your role as a family caregiver, you've probably been helping your loved one with everyday activities that have become taxing due to their health. However, when their symptoms worsen, they may need a more advanced level of care in order to remain in their own home as they age. In these types of situations, many families rely on in-home care services provided by organizations specifically trained to care for seniors.
Fortunately, Visiting Angels Carrollton offers long-term in-home supportive services for seniors in Carrollton, Farmers Branch, Coppell, North Branch and other nearby cities in Texas who are aging and dealing with chronic health conditions. With our home care services, we can help your loved one with chores and other everyday tasks. Our caregivers can help with anything from personal hygiene to mobility needs to toileting and incontinence care.
Most of the time, seniors with chronic conditions just need consistent help with day-to-day tasks, and that's where Visiting Angels Carrollton comes in. With the help of our caregivers, your loved one can have an easier time managing their illness and living out their golden years in their beloved home.
What Are Chronic Illnesses?
Any health problem that lasts for a year or more, is difficult to manage without constant medical treatment and puts significant constraints on everyday life is considered chronic. Arthritis, asthma, respiratory ailments, diabetes and heart disease are among the most frequent chronic conditions affecting the elderly. Seniors suffering from dementia and some forms of cancer are often regarded to be managing a chronic ailment.
How Can In-Home Supportive Services from Visiting Angels Carrollton Help My Loved One?
Support in managing a chronic illness is necessary for many seniors; however, it is often not provided at the doctor's office, but rather at home, in the time in between visits. The ability of seniors to successfully manage chronic diseases may be greatly improved by receiving professional care at home, which can give the day-to-day help that can make all the difference.
At Visiting Angels Carrollton, we provide a comprehensive range of in-home supportive services to our elderly clients so that they may get high-quality support in the comfort of their own homes, which in turn enables them to more effectively manage a chronic illness.
When it comes to providing in-home care for seniors suffering from chronic conditions, we take a more individualized approach than the majority of other home care services in the area. This means that the care plan we create for your loved one will be flexible enough to accommodate his or her specific needs and daily routine. Our caregivers are available anytime, day or night, holidays included. Seniors who need 24-hour in-home supportive services may count on us for that, too.
Our home care services for seniors with chronic illnesses include:
Meal planning and preparation, including feeding assistance
Light housekeeping
Medication reminders
Personal hygiene care
Toileting and incontinence care
Mobility assistance
Transportation to medical appointments
Help with running errands
Meaningful companionship
And more
Benefits of In-Home Care for Seniors with Chronic Conditions
If your loved one is living with chronic health problems, here's how our in-home supportive services can help:
One-on-One Support
At Visiting Angels Carrollton, our home care professionals provide one-on-one in-home supportive services that are tailored to each senior client's specific requirements, schedules and preferences. That way, you can rest assured knowing your loved one will get the care they truly need when they need it most so they can continue to enjoy their everyday routine.
Greater Autonomy
Thanks to our home care services, your loved one will be in control of the care they receive. We will work with you to determine how often our caregivers will visit and what support they will provide to help your loved one remain independent. That way, your loved one can stay in their home, keep doing what they normally do and get the care and support they need to deal with long-term health conditions.
Increase the Number of "Good Days"
With our in-home supportive services, our caregivers can help seniors manage chronic illnesses at home, and keeping to a healthy routine promotes more healthy days in the long run. Our goal is to enhance the quality of life of the seniors we work with.
Call Visiting Angels Carrollton at 972-694-0811 to schedule a free in-home consultation today!
Serving Carrollton, Farmers Branch, Coppell, North Branch and Surrounding Areas in Dallas County, TX
Visiting Angels
CARROLLTON, TX
3010 Lyndon B Johnson Fwy #1200
Dallas, TX 75234
Phone: 972-694-0811