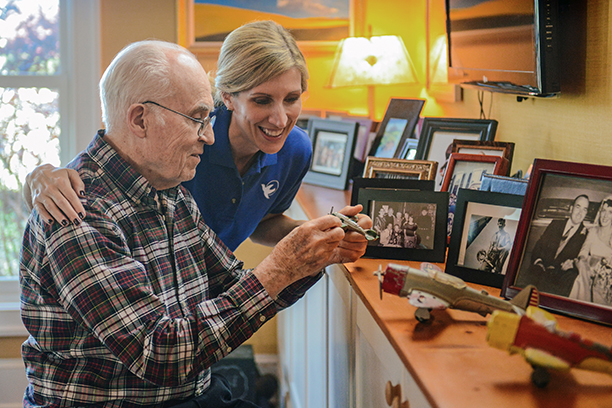 Quality Home Care Assistance in Cullman, AL
Visiting Angels helps seniors in Cullman, AL safely age in place with quality home care assistance services
Does your older parent or relative show signs of age-related difficulties? If so, it might be time for them to get some extra care and support. Many families choose to move elderly loved ones into assisted care facilities. However, many seniors still value their independence, so being forced to relocate to a facility can cause them to feel angry or upset. Fortunately, there's still a way to get your loved one the care they need without interfering with their freedom.
At Visiting Angels, we've provided home care services to many seniors throughout Cullman, AL. We specialize in providing personalized care plans that are carried out by professional and compassionate caregivers. We'll help your loved one safely live their golden years in the comfort and privacy of their own home.
Custom-Tailored Home Care Assistance
As an agency with years of experience with providing senior care services, we understand that no two clients will have the exact same needs. That's why we create customized care plans that work around your loved one's needs and schedule. When you arrange a free in-home meeting with one of our care directors, we'll take the time to get to know your loved one. This will help us determine the best care plan for them. We can also take this opportunity to answer any questions you have about our services.
Our caregivers provide a variety of non-medical senior care services. They can prepare healthy meals for your loved one, remind them to take their medication, assist them with bathing and getting dressed or even take them to the Donald E. Green Senior Center for exercise classes or bingo night. Our Senior Life Care Navigation program includes more comprehensive and specialized services, including palliative care, dementia and Alzheimer's care, end of life care and more.
We understand you may have some concerns about trusting a stranger to care for your loved one. Rest assured that with Visiting Angels, your relative will be cared for by an experienced and caring professional. We thoroughly screen each and every applicant to make sure they're a right fit for our team. We take many factors into consideration—including references from previous jobs, background checks and more—so you can have peace of mind knowing your loved one is in capable hands.
Your loved one's needs can change any time, so our home care plans are flexible. If you need to make any adjustments to your loved one's level of care, simply contact one of our care coordinators and we'll work with you to many any needed changes. Our caregivers are available nights, weekends and even holidays, so we'll be here when you need us most.
To learn more about Visiting Angels, contact our Cullman, AL office today. We're here for you!
Serving Cullman, Etowah, Walker, Marshall & Blount Counties
Visiting Angels
CULLMAN, AL
207 4th St SE #A
Cullman, AL 35055
Phone: 256-734-6600
Fax: 256-734-6616