Visiting Angels Is Hiring Caregivers in Fremont, Newark, Union City, and the Surrounding Area to Join Our Team!
You might know that about 10,000 people retire every day, but did you know that more and more of these retirees are choosing to age in place? Continuing to live independently in their own home is a goal for most seniors these days. The attention and resources a caregiver can provide can help each of these individuals stay safe and healthy while also maintaining their independence.
At Visiting Angels of Fremont, we offer a wide range of essential personal home care services that assist families of all shapes and sizes in providing the best possible care to loved ones. As a caregiver with our local agency, you will see the difference you make in the lives of individuals, families, and the community. We take pride in serving Fremont, and that means we take pride in developing our staff—and especially new team members—to make sure they will always have the best knowledge, experience, and resources available.
Enjoy These Great Benefits as a Team Member with Visiting Angels Fremont:
Competitive pay, based on experience level
Convenient Weekly Pay Schedule
Flexible scheduling available – choose the schedule that works for you!
Organized and supportive office staff, who provides timely employee feedback
Rewarding job responsibilities, which improve the lives of local seniors
Our office was voted Employer of Choice in the 2022 Home Care Pulse Awards
Learn more about our amazing benefits by clicking here.
Interested in Becoming a Senior Care Provider? We Are Looking for People Who:
Are 18 years or older
Have 6 months of professional caregiving experience (preferred)
Must be on the California Home Care Aide Registry or be willing to sign up
Can pass a criminal background check and drug screen
Have valid Driver's License, reliable transportation, and proof of current auto insurance
Are dependable and display a positive attitude
Can communicate effectively with clients, peers, and supervisors
Many of our caregivers come from previous home care positions, or adjacent fields. We can offer you the opportunity to expand your professional knowledge into new areas of care, such as Alzheimer's or dementia care, transitional care, and end of life care. Working with our agency also means that you will have help finding not just clients who need your services, but clients who are paired with you based on personality, values, humor, and hobbies.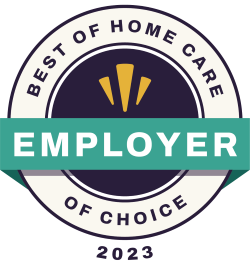 One-on-One Companionship Care
Companionship care is the heart of what we do, meaning all our one-on-one home care services are provided through the strong relationship you will develop with clients. Each client has a personalized care plan, based on their unique needs, preferences, and abilities. You will play an integral role in making sure each of our clients is able to access the physical, mental, emotional, and social resources they need to thrive.
Apply to Visiting Angels of Fremont!
If you have great interpersonal and communication skills and a passion for serving Fremont, Union City, Newark, and surrounding communities, Visiting Angels of Fremont is looking for you.
If you would like to join our team as a caregiver, apply below!