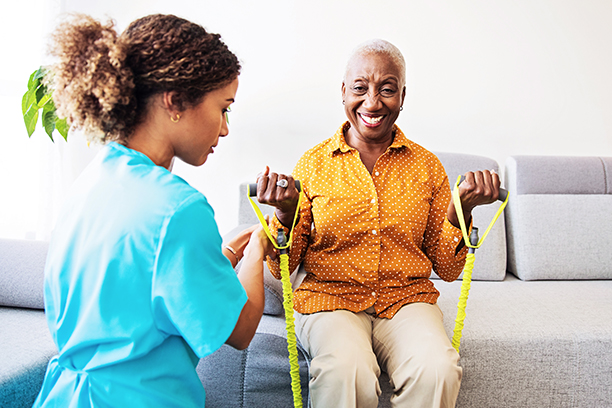 Senior Home Care Services in Fremont, CA and the Surrounding Areas
If you are helping to care for a loved one who lives alone, you might have noticed that the list of tasks they need assistance with grows over time. Working with a care provider needs to be just as customized to your loved one's unique needs. As your loved one's abilities, health condition, and needs change, you need senior home care services that adapt just like you would.
When you work with Visiting Angels of Fremont, you will have access to Senior Life Care Navigation, a program that focuses on elements of care and allows your care plan to change naturally alongside your loved one.
Visiting Angels Provides Top Quality Senior Home Care Services in Fremont, Newark, Union City, and Surrounding Areas
A wide range of needs can be met through senior home care services, helping your loved one maintain their well-being independent of a live-in facility or expensive institutionalized care. Senior Life Care Navigation from Visiting Angels of Fremont is designed to support physical, mental, emotional, and social health, as well as the individual goals or conditions that your loved one might have. Senior Life Care Navigation was created to provide our clients with a journey of dignified and compassionate care.
Our one-on-one senior home care services include:
Alzheimer's care provides senior care and monitoring for seniors in Fremont who have been diagnosed with Alzheimer's disease. Caregivers can help and offer safety measures to help keep your loved one comfortable and independent at home.
---
Our caregivers are companions at heart, so they strive to build long-lasting relationships with each of their clients. This program encompasses all of our daily living assistance tasks like running errands, transportation assistance, going for walks, playing board games, and more.
---
Our caregivers know that clients with degenerative cognitive diseases require special resources that help them to feel safe, happy, and secure. They can assist with medication reminders, wandering prevention, memory care, routine establishment, and other tasks.
---
We offer essential support and companionship during the end-of-life process to ensure your loved one is as comfortable as possible and that their family has the respite they need.
---
Certified Palliative Care is a unique approach to senior home care services. Specially trained caregivers from Visiting Angels of Fremont care for the spiritual, social, emotional, and physical needs of seniors and disabled adults.
---
Our caregivers offer dignified and respectful assistance with personal tasks like bathing, dressing, toileting, and grooming. They ensure the client is comfortable with any personal task they perform.
---
After a hospitalization, surgery, or other health events, a caregiver can help your loved one transition home, avoid hospital readmission, and follow any after-care steps.
---
The Safe & Steady Fall Prevention program helps seniors, their loved ones, and community members identify fall risks, and it provides informational brochures for prevention. Our care coordinator will also conduct a complimentary fall prevention assessment of your loved one's home.
---
Our caregivers will help seniors retain their relationships with friends and family through the use of social media, messaging, video chat, and more. This program can also show seniors how to search the internet safely and shop for groceries and other household items online.
Does Your Loved One Need Personalized Care?
If you are helping to care for a loved one who lives alone in Fremont or the surrounding area, Visiting Angels of Fremont is here to help. We offer a wide range of senior home care services to keep your loved one independent at home for as long as possible. Contact our agency today by clicking one of the buttons below to connect with a staff member to learn how you can get started with our senior home care services.
Call us today! Our Visiting Angels team will be happy to answer any questions you have and schedule your free, in-home assessment with one of our care coordinators.


Serving Fremont, Newark, Union City, CA and the Surrounding Area
Visiting Angels
FREMONT, CA
39159 Paseo Padre Pkwy #110
Fremont, CA 94538
Phone: 510-284-0000
Fax: 510-284-0001