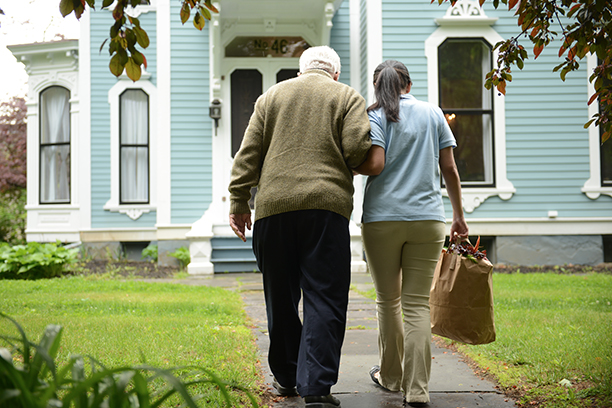 Alzheimer's Services in Fremont, CA and Neighboring Communities
Visiting Angels Provides a Wide Range of Essential Alzheimer's Services to Seniors Living in Fremont, Newark, Union City, and Nearby Cities
When your loved one receives a diagnosis of Alzheimer's or dementia, it can be a scary moment for the whole family. You might assume they have to leave their home and move into an expensive facility, away from family and friends. You might worry about what symptoms they will experience and how their health will change. At Visiting Angels of Fremont, we are here to partner with you through it all—our essential personal home care services can help your loved one stay safe, healthy, and happy at home, for longer.
Our Alzheimer's services are designed to respond to the biggest fears your family might have, and the problems your loved one might experience, as a result of the disease.
Helping Seniors with Daily Tasks and Activities
Alzheimer's is a complicated disease with many symptoms, but that does not mean your loved one can't enjoy every day. With an experienced caregiver, your loved one will receive one-on-one support and they will have access to emotional, mental, and social assistance.
Our Alzheimer's services are designed to increase your loved one's safety and security while at home. You might have heard horror stories of patients who wander away from Alzheimer's facilities; sometimes, that is simply because they do not feel like they are at home. With care at home, your loved one will be more comfortable, and feel more grounded, in their own home with a caregiver.
A Wide Range of Services
At Visiting Angels of Fremont, we offer comprehensive home care services for clients with all types of health conditions and needs. With a dedicated caregiver, your loved one can receive help with:
Meal Preparation
Medication Reminders
Mobility Assistance
Transportation to Doctor's Appointments and Therapies
Light Housekeeping, Laundry, and Linen Changing
Personal Care for Bathing, Grooming, and Toileting
Memory Care
Our Alzheimer's services can incorporate all these services as your loved one's condition advances.
Visiting Angels of Fremont can help you make sure that your loved one enjoys the best possible quality of life. Our knowledgeable caregivers will help you monitor your loved one, coordinate with medical providers, and make sure your loved one has all the resources that are needed for them to remain safe, comfortable, and healthy.
Contact Visiting Angels of Fremont
If you are concerned about the long-term well-being of a loved one with dementia or Alzheimer's, Visiting Angels of Fremont is ready to help. Contact our home care agency today at 510-319-0326 to learn about our Alzheimer's services in Fremont, Union City, Newark, and the surrounding area.
Schedule Your FREE, In-Home Assessment Today
Our senior care staff at Visiting Angels of Fremont is proud of their knowledge and experience. Caregivers are matched with clients based on their care skills and experience, as well as their humor, personality, and values. A caring caregiver can assist your loved one in taking an active role in their health and living environment. We can also assist with health adjustments suggested by your loved one's doctor, such as sticking to a medication schedule, changing eating habits, or introducing mental activities into daily life.
Serving Fremont, Newark, Union City, CA and the Surrounding Area
Visiting Angels
FREMONT, CALIFORNIA
39159 Paseo Padre Pkwy #110
Fremont, CA 94538
Phone: 510-319-0326
Fax: 510-284-0001